Ad spending in Canada to reach $11.52 billion in 2018: report
Digital media ad spending is expected to account for the largest global investment, according to eMarketer.
North America continues to be the top ad spending market at over $230 billion in 2018, according to eMarketer's latest Global Ad Spending: The eMarketer Forecast for 2018. The continent's ad spend was up 6.6% from 2017 and translates to 37% of total media worldwide.
Total media ad spending in Canada is projected to reach $11.52 billion in 2018. The report estimates that it will exceed $14 billion by 2022.
The forecast report was conducted using estimates based on macro-level economic conditions, historical trends, consumer media consumption and device usage, and reported revenues from major ad publishers and research firms.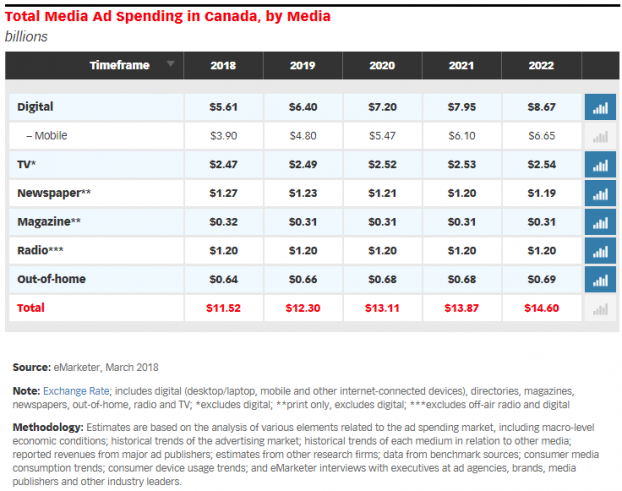 Digital comes in as the most profitable in Canada, with an estimated $5.6 billion in 2018 ($3.9 billion being allocated to mobile).
Meanwhile, TV is expected to come in at $2.47 billion, newspapers at $1.27 billion and radio at $1.20 billion. Magazines and out-of-home will continue to sit well below the billion-dollar mark.
Worldwide, total media ad spending will rise by 7.4% to nearly $630 billion.
Currently hovering at 43.5% of global investments in 2018 (up from 39.7% in 2017), digital is expected to account for nearly 50% of total global advertising investments by the year 2020.