Shoppers, CTV take the top: Media Monitors
Car and truck dealer associations were also the most significant category buyers in the Toronto and Montreal markets.
Shoppers Drug Mart shot up the Media Monitors chart during the last week, purchasing 772 radio advertising spots in the Toronto market for the week of May 14 to 20. Shoppers was the most prolific buyer in the city, according to Media Monitors, after coming in at #28 the previous week.
Also making a big jump was second-place finisher HSBC, which moved up from #33. Staples took the third-place spot, up from #14, while TD Insurance held the #4 spot for the second consecutive week. Fifth-place finisher Rona was new to the chart.
Also new to the chart in the top-10 were the Lexus Dealer Association, Honda Ontario and Nordstrom, at #7, #8 and #9, respectively.
For categories, car and truck dealer associations made a big increase in their collective buys (up to 3,312 from 1,954 the previous week) and were the largest category buyer in Toronto.
In Montreal, CTV held onto the top spot as it has for the better part of several months. Directly following CTV was Bell's Internet, phone and TV services, which also held the spot for the second straight week.
In third place was the BMW Dealer Association, up from #16. That was followed by another auto brand, the Chevrolet Cruze, up from #11. The Mitsubishi Dealer Association climbed one spot to round out the top-five.
Also new to the chart in the top-10 was Allstate at #8.
Car and truck dealer associations were also the top category in the Montreal market, with a total of 1,294 spots purchased all together.
Toronto, by brand
Toronto, by category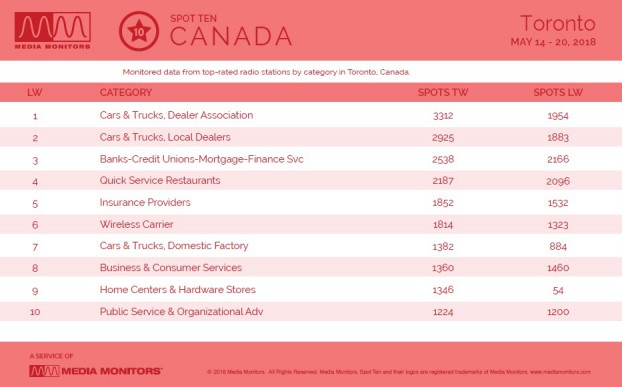 Montreal, by brand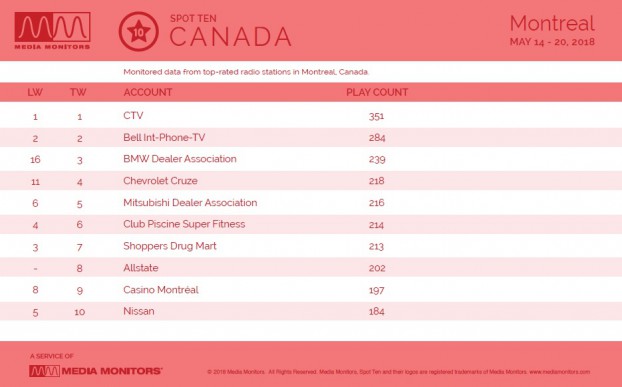 Montreal, by category