Upfronts '18: CBC debuts 17 new series
The pubcaster will also renew a whopping 36 series, making the returning line-up one of its largest to date.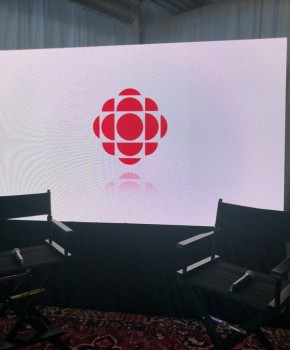 The CBC has revealed its 2018/2019 programming slate, with the pubcaster adding 17 new shows and renewing a whopping 36 series.
As was first revealed in April, CBC is rebooting its long-running courtroom drama Street Legal after 25 years. The pubcaster announced today that Bruce Smith (19-2) will serve as showrunner, writer and exec producer on the new 6 x 60-minute show. The series is produced by Indian Grove Productions and Broken Clown Productions, with Bernie Zukerman exec producing. Returning star Cynthia Dale and Rayne Zukerman are producers.
Street Legal catches up with Olivia Novak (Dale) after she's been forced out of her Bay Street firm and has joined a small practice of social activist lawyers in a class-action suit against "big pharma." Production will begin in fall 2018 in Montreal and Toronto. The show will debut in late winter and air on Monday nights at 9 p.m.
In addition to Street Legal, CBC has added five other dramas, including Back Alley Films and Muse Entertainment's Coroner (8 x 60 minutes). The procedural, based on the bestselling book series by M.R. Hall, follows Jenny Cooper, a coroner suffering from clinical anxiety and whose job it is to investigate suspicious deaths. The show hails from hit-making EP and showrunner Morwyn Brebner. Adrienne Mitchell (Bellevue) is executive producer and lead director. Coroner will air Mondays at 9 p.m. in early winter, following the season two run of Frankie Drake Mysteries (10 x 60 minutes, Shaftesbury).
Diggstown (6 x 60 minutes), from Circle Blue Entertainment, will premiere in late winter on the pubcaster. The show, set in Dartmouth, NS, features stars what CBC says is the first black female lead character in a Canadian original drama. Created by executive producer and showrunner Floyd Kane (Jean of the Joneses), and executive produced by Amos Adeutyi (Across the Line), the series follows a corporate lawyer who reconsiders her priorities after her aunt commits suicide.
CBC has partnered once again with Netflix, this time on original drama Northern Rescue (10 x 60 minutes). Produced by Don Carmody Television, the series stars William Baldwin (Backdraft) as a widower who returns to his small northern hometown with his three kids following the death of his wife. The drama was created by Mark Bacci (Between), David Cormican (Tokyo Trial) and Dwayne Hill (Peg + Cat). Exec producers on the series are Don Carmody, Cormican, Bradley Walsh, Bacci, Baldwin and Hill.
The pubcaster has also announced the premiere date for Unspeakable, which it commissioned in July 2017 with SundanceTV. Produced by Mezo Entertainment, the limited series (8 x 60 minutes) follows Canada's tainted blood scandal that began in the early 1980s. Created by Stargate SG-1 writer and exec producer Robert C. Cooper, the show stars Sarah Wayne Callies (The Walking Dead), Shawn Doyle (Bellevue), Michael Shanks (Saving Hope) and Camille Sullivan (The Disappearance). The series will premiere in winter 2019 on Wednesdays at 9 p.m.
Returning dramas include Anne with an E (10 x 60 minutes, Northwood Entertainment), which will premiere in the fall; season two of Burden of Truth (8 x 60 minutes, ICF Films/eOne/Eagle Vision); season 12 of Heartland (11 x 60 minutes, Seven24 Films), which moves to winter 2019; and season 12 of Murdoch Mysteries (18 x 60 minutes, Shaftesbury).
Absent from the lineup is 21 Thunder, the sports drama from PMA Productions and Generic Productions which debuted last July.
On the factual and arts front, CBC gave greenlights to five new series, including From the Vaults (6 x 60 minutes, working title). Produced by Banger Films, the show explores Canadian music history using concert footage and interviews from CBC's archives. It's scheduled to air this fall. As well, CBC commissioned High Arctic Rulers (8 x 60 minutes, working title), produced by Great Pacific Media. The project documents how men and women in northern communities travel each year to the farthest reaches of the north to deliver food, clothing and supplies.
Also on the unscripted docket is Proper Television's Under New Management (4 x 30 minutes, winter 2019), about budding entrepreneurs as they shop for the business of their dreams, and White Pine Pictures' In the Making (8 x 30 minutes, fall 2018), which follows host Sean O'Neill as he travels the globe with some of Canada's brightest creators as they strive to bring their work to life.
As previously announced, CBC greenlit a junior version of the competition format Canada's Smartest Person. Produced by Media Headquarters Film and Television, Canada's Smartest Person Junior (6 x 60 minutes, fall 2018) sees 12 children pit their wits against one across six categories of intelligence.
New kids programming joining CBC Kids' lineup includes Becca's Bunch (52 x 11 minutes, Jam Media); Big Blue (52 x 11 minutes, Guru Studio), Endlings (12 x 30 minutes, Sinking Ship), Kingdom Force (52 x 11 minutes, Industrial Brothers/Boat Rocker) and CBC/PBS copro Molly of Denali (38 x 30 minutes, Atomic Cartoons).
A spokesperson for CBC told Media in Canada's sister pub Playback Daily that Forte Entertainment's Hello Goodbye is on hiatus for the upcoming broadcast year.
The sole new comedy to join CBC's primetime lineup is Cavendish, from Mark Little (Mr. D) and Andrew Bush (Everyone's Famous), founders of the sketch comedy troupe Picnicface. The comedy (8 x 30 minutes) follows two brothers who return to the P.E.I. town where they were born to take care of their absentee and ailing father. Produced by Temple Street Productions, the comedy stars co-creators, writers and exec producers Little and Bush. It will air Thursdays at 9 p.m., beginning in winter 2019.
Cavendish joins a raft of returning comedies, including Baroness Von Sketch Show (10 x 30 minutes, Frantic Films), which moves to fall 2018; Kim's Convenience (13 x 30 minutes, Thunderbird Entertainment), which moves to winter 2019; Little Dog (8 x 30 minutes, Cameron Pictures/Elemental Pictures); the final season of Mr. D (8 x 30 minutes, Topsail Productions/Gerard ADHD Entertainment); season five of Schitt's Creek, (14 x 30 minutes, Not A Real Company Productions); season four of Still Standing (13 x 30 minutes, Frantic Films), which moves to fall 2018; season 26 of This Hour Has 22 Minutes (19 x 30 minutes, 1 x 60 minutes; DHX Media); and season three of Workin' Moms (13 x 30 minutes, Wolf + Rabbit).
All told, the pubcaster is bringing back 36 series, one of its largest returning lineups to date.
CBC's 2018-19 primetime broadcast schedule is as follows:
MONDAYS
8 PM – MURDOCH MYSTERIES *Season 12* (FALL/WINTER)
9 PM – FRANKIE DRAKE MYSTERIES *Season 2* (FALL)/ CORONER *NEW SERIES* (EARLY WINTER)/ STREET LEGAL *NEW SERIES* (LATE WINTER)
10 PM – THE NATIONAL
TUESDAYS
8 PM – STILL STANDING *Season 4*(NEW TO FALL)/ KIM'S CONVENIENCE *Season 3* (NEW TO WINTER)
8:30 PM – THIS HOUR HAS 22 MINUTES *Season 26* (FALL/WINTER)
9 PM – BARONESS VON SKETCH SHOW *Season 3* (NEW TO FALL)/ SCHITT'S CREEK *Season 5* (WINTER)
9:30 PM – WORKIN' MOMS *Season 3* (WINTER)
10 PM – THE NATIONAL
WEDNESDAYS

8 PM – THE GREAT CANADIAN BAKING SHOW *Season 2*(EARLY FALL)/ CANADA'S SMARTEST PERSON JUNIOR *NEW SERIES* (LATE FALL)/ BURDEN OF TRUTH *Season 2* (EARLY WINTER)/ DIGGSTOWN *NEW SERIES* (LATE WINTER)
9 PM – VANITY FAIR *NEW SERIES*(EARLY FALL)/ MR. D *Season 8* (LATE FALL) – New Night/
UNSPEAKABLE *NEW SERIES* (WINTER)
9:30 PM – HALIFAX COMEDY FESTIVAL (LATE FALL)
10 PM – THE NATIONAL
THURSDAYS

7 PM –  THE INVESTIGATORS WITH DIANA SWAIN *Season 3* (FALL) – New Night
8 PM – DRAGONS' DEN *Season 13* (FALL/WINTER)
9 PM – THE DETECTIVES *Season 2*(EARLY FALL)/ FROM THE VAULTS *NEW SERIES* (LATE FALL)/ CAVENDISH *NEW SERIES* (WINTER)
9:30 PM – LITTLE DOG *Season 2*(WINTER)
10 PM – THE NATIONAL
FRIDAYS

8 PM – MARKETPLACE *Season 46*(FALL/WINTER)
8:30 PM – IN THE MAKING *NEW SERIES* (EARLY FALL)/ THE STATS OF LIFE *Season 2* (EARLY WINTER)/ UNDER NEW MANAGEMENT *NEW SERIES* (LATE WINTER)
9 PM – CBC DOCS POV *Season 3* (FALL/WINTER) – New Night
10 PM – THE NATIONAL
11:30 PM – CBC ARTS: EXHIBITIONISTS (FALL/WINTER)
SATURDAYS

Afternoon – ROAD TO THE OLYMPIC GAMES *Season 4* (FALL/WINTER)
6:30 PM – HOCKEY NIGHT IN CANADA (FALL/WINTER)
SUNDAYS

Afternoon – ROAD TO THE OLYMPIC GAMES *Season 4* (FALL/WINTER)
7 PM – ANNE WITH AN E *Season 2*/ HEARTLAND *Season 12* (WINTER)
8 PM – THE NATURE OF THINGS *Season 58* (FALL/WINTER)
9 PM – THE FIFTH ESTATE *Season 44* (FALL/WINTER) – New Night
10 PM – THE NATIONAL
From Playback Daily