Spotted! A pothole in one
Golf Quebec took advantage of Montreal's pervasive pothole problem.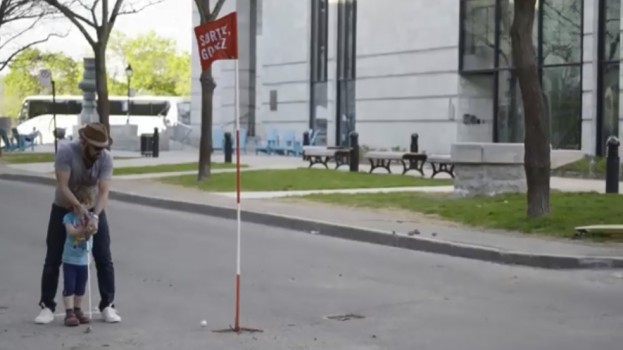 This past winter, Montreal made headlines numerous times for its pervasive pothole problem.
But Golf Québec recently decided to make the best of the situation and have some fun with the problem – while promoting its own mission of getting people to engage in the sport.
The group paired with marketing agency Oasis Communication for an experiential stunt, which has since evolved into a lighthearted social media campaign. On May 25, brand ambassadors were dispatched to some of the city's worst potholes to mark them with a flag. The bright red flags simply read: "Sortez, Golfez" ("Get Out, Play Golf").
Throughout the day, the brand ambassadors encouraged passersby to try their hands at a putt.
Footage from the event was then purposed into a series of digital videos, which were incorporated into Golf Québec's "Get Out, Play Golf" social campaign.
The focus of the campaign, according to Oasis creative director Hugo Gallant, is to democratize the sport of golf and bring it to a younger generation, while also appealing to more casual players and increasing overall interest in the sport.
"The platform is a direct call-to-action to get people to try the sport," he said. "Golf is special. [But there aren't many opportunities to play for] two to four hours [and] just have conversation with someone, to share something in a really agreeable way. This is our way of reaching out to a cohort that maybe does not want to play a full 18 holes."
He acknowledged that golf has slightly fallen out of fashion with younger players and is in need of a boost. In fact, the sport has been identified as a dying industry, with the 18 to 34 age group not picking up the sport with the same enthusiasm as its boomer counterparts.
But Gallant said there is hope, and it lies in being creative and different.
The activation itself, Gallant said, was the first point of introduction, to get the clubs in the hands of people who had never experienced the game before. "The first contact is really important in any sport," he said. "You change your focus."
Gallant said the "Sortez, Golfez" platform will continue to evolve, mainly through content on Facebook and Instagram, although he said there may be future stunts to build on the experiential strategy.