LCBO partners with Pride Toronto
This marks the first time in the festival's 38 years that the retailer has shown official support.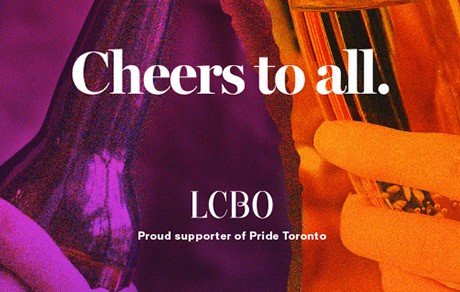 The LCBO announced a month-long partnership with Pride Toronto 2018, having launched a new multi-tiered equality campaign on June 1.
This is the first time the company has officially supported the annual festival celebrating LGBTQ communities, now in its 38th year.
The partnership, running from June 1 to 24, is part of the "Cheers to All" campaign that rolled out at five LCBO locations within the Pride Toronto festival footprint, which runs along Yonge Street from Bloor St. East to Dundas St. West.
"We thought that it was really important and necessary for us to partner with Pride Toronto because we wanted to ensure that we reflect and represent our people, our customers and our values tied to diversity and inclusion in the workplace," Jennifer Bell, VP of corporate communications and corporate affairs at LCBO, told MiC.
The campaign was designed and executed by agency Bensimon Byrne and LCBO's in-house corporate social responsibility, marketing, merchandising and retail teams.
As part of the campaign, select locations feature creative styled after Pride Toronto's official design, as well as promotional products from Absolut Vodka, Paco & Lola and Bud Light and fundraising for Casey House, a Toronto-based organization for people living with HIV/Aids.
The campaign also includes sensitivity training for staff at the five LCBO locations, with the retailer updating creative materials for its Check 25 program in those same stores. First launched in 2007, the latter program aims to keep alcohol out of the hands of minors, and beginning this month, signage and campaign materials for the program will include images of members of the trans community.
Although the Check 25 update and sensitivity training will be in select Toronto locations, Bell said that the company is planning to extend the campaign province-wide over a few months, with the help of its employees and The 519, an organization dedicated to advocacy for the inclusion of LGBTQ communities.
While June is Pride month in Toronto, the annual Pride Parade takes place from June 22 to 24.
Other partners of Pride Toronto include TD, Via Rail, OLG, Live Nation and its official launch partner, the Art Gallery of Ontario.