OLG hits the jackpot in Toronto: Media Monitors
Plus, the Mitsubishi Dealers Association finally dethroned CTV as the top radio buyer in Montreal.
The Ontario Lotto and Gaming Corporation was the most prolific buyer of radio advertising in Toronto last week.
The provincial agency purchased 1,089 ad spots in the city for the week of June 4 to 10, pushing it up to #1 from #10 the previous week.
Coming in second was Rogers Internet, up from #5. It was followed by Rogers, which fell from #1 to #3, and new list entrant Canadian Tire at #4. Rounding out the top-five was HSBC, which fell one spot from #4.
Other new entrants in the top 10 were Hyundai (#6), Rona (#7) and Sail (#9).
For categories, wireless carriers increased their collective buy to 2,115, overtaking the QSR category as the largest group of buyers.
In Montreal, the Mitsubishi Dealers Association overtook CTV, which has sat as the top buyer in the city for several months. The association purchased 302 spots, rising up from #5 the previous week. CTV fell to #2.
Following CTV was new entrant Canadian Tire at #3, Hydro-Québec at #4 (down one spot from #3) and Casino Montreal at #5 (also down one spot from the previous week). Other new entrants to the top 10 were Club Piscine Super Fitness (#6), Allstate (#8), Nissan (#9) and the Hyundai Dealer Association (#10).
Buys from Mitsubishi, Nissan and Hyundai pushed the car and truck dealer associations buy to 763, more than doubling its purchase from the previous week and making it the largest category buyer in the French Canadian city.
Toronto, by brand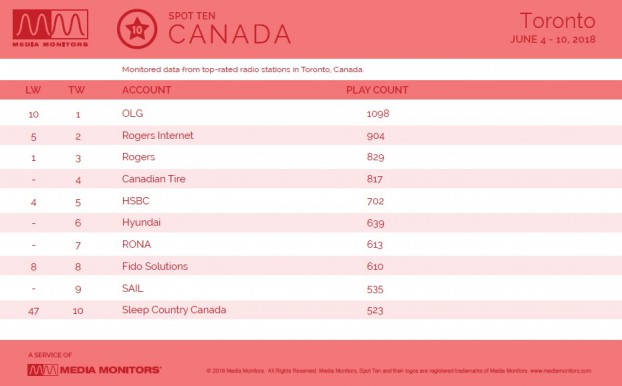 Toronto, by category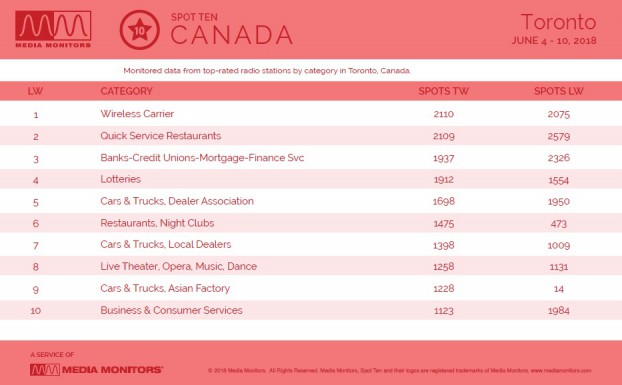 Montreal, by brand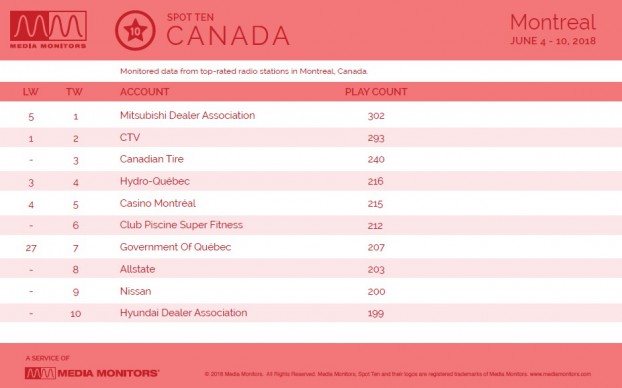 Montreal, by category