The Media Kitchen blows out the candles
With nine wins in one year, the digitally focused agency is looking at diversifying its client base and building up its team.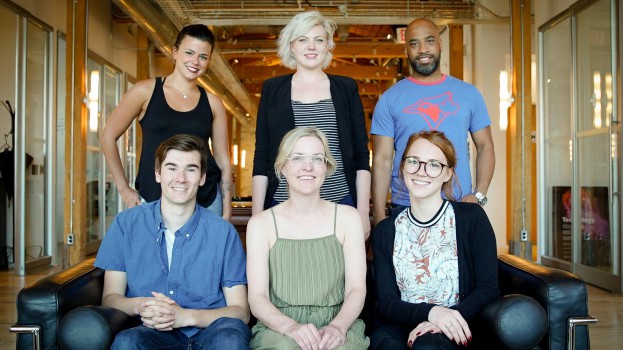 It's been one year since KBS Canada brought its full service agency brand The Media Kitchen to the country.
In the very early days, managing director Jodi Peacock (pictured front and centre) told MiC, the agency was able to go to market with a handful of clients, but she noted that they were mostly acquired through part of the relationship with KBS. But in the last year, it's acquired new clients including CSG (which builds business support systems for Comcast, Cineplex, Bell Media and others), consumer intelligence firm Maru and U.S. casual dining chain GCFB either through partnerships with another creative agency, or independently with no partnered agency.
For Peacock, that's a big deal. "It means we've been able to grow independently from KBS," she said. In total, the year brought nine new wins, which Peacock said is "pretty hot for a new agency."
Retentions also include Purdue, the Keg and others. Peacock said the agency typically works with clients whose media budgets are in the $1 to $10 million range.
Peacock joined TMK following four years with GroupM's Mediacom.
She said TMK's offerings make it unique, and that TMK is experiencing high demand for SEM services, as well as in its signal planning approach (which helps it capture market demand before moving into demand generation).
She added that the agency's commitment to transparency gives it a leg up as it's making its name. "We don't just mean that our rates are 100% transparent," she said. "We almost always work on a retainer model. Our clients see exactly what everything is costing, and we do almost everything through live dashboarding."
It's also made three recent hires (search engine marketing specialist Alex Boyle, pictured front and left, and associate strategist Amanda Lomax, front and right) and is still looking for two more senior strategists, one of whom will work out of the agency's Montreal office.
But despite all the excitement about how far the team has come, it's still early days, and Peacock said the agency is feeling more ambitious than ever. It's looking to expand into new categories with its client roster, starting by capitalizing on one of the most hot-button topics of the day. "We'd love a cannabis client," she said, adding that the company would also love to nab its first alcohol client and expand into the tech and electronics spaces. "We're really strong with retail," she said. "Our signal planning works really well in that vertical because there's a conversion that's capturable very quickly, which is why we also do well in restaurants and hospitality."
She's also got her eyes on the prize – literally – adding that it's hoping to make waves on the media awards circuit next year (specifically with the Media Innovation Awards).