What's the opportunity in IGTV?
Industry insiders weigh in on the potential of Instagram's new long-form video app for influencers, users and brands.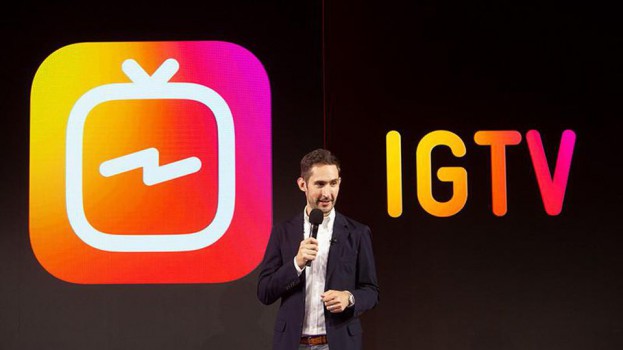 It's been just over two years since Instagram extended the maximum length of its native videos from 15 seconds to one full minute.
Now, it's going even more long-form.
The Facebook-owned photo and video platform has introduced IGTV, a new, separate app that will showcase videos of up to one hour in length, uploaded by the users. Instagram CEO Kevin Systrom announced the introduction at Vidcon in Los Angeles June 20. He identified it as "different from the typical mobile video experience."
The video app (separate from the native Instagram app) is optimized for mobile, with videos all appearing in a full-screen, vertical format. For viewers, video begins playing the second they open the app, although there is a direct link to browse videos in the lower-right corner. Users can watch creators that they already follow on Instagram while also discovering others. It's available globally, and some high-profile Instagram users such as Lele Pons (the most-followed creator on the platform with 25 million followers) and Selena Gomez have already begun producing content for the app. While numerous professional creators are debuting professionally directed and produced content, all Instagram users can join and upload videos.
The introduction certainly plays into an increasing appetite for mobile entertainment; just yesterday, GroupM's latest round of ad spend and consumption trends showed that Canadians are watching significantly less TV (Canadians age 18 to 24 in particular are watching six hours per week less than they were in 2013). Meanwhile, social media use continues to climb (it is estimated that 59% of Canadians will use social networks this year). Mobile ad spend is expected to come to $5.3 billion this year, representing nearly 74% of all digital ad spend in Canada.
But for all its popularity, there's no shortage of platforms – and competition – in the online video space. YouTube has been the preeminent video platform for more than a decade, but Facebook has scaled up its video efforts in the last several years as well. Instagram and Snapchat have squared off in the short-form "stories" space, while Twitter has paired with numerous traditional television partners to bring premium live video to the platform.
Could the introduction of a new platform – with a name as big as Instagram behind it – prompt a sway in creators and advertisers?
Ad sales intelligence firm MediaRadar's research found that despite a ravenous user base (1.6 billion people watch YouTube content at least once per month) ad spend across YouTube's top 70 channels is flat, with only a 0.2% increase year-to-date. CEO and co-founder Todd Krizelman said despite seeing YouTube as an "obvious" opportunity, brand safety is becoming a concern.
"Marketers and publishers alike both want to tap into YouTube's exploding audience," he said. "But for this to be a go-to platform, there's work to be done."
Unlike YouTube, IGTV doesn't have banner or pre-roll ads, although the company has said it is looking into opportunities to help creators make a living off the platform.
Jonathan Davids, co-founder and CEO of influencer firm Influicity, said there's no doubt that users will see creators flocking to IGTV, and that they'll soon start pairing with brands for deals.
"Influencers tend to be early adopters of new platforms," he told MiC. "The adoption should be fast. Most influencers have day jobs and need to work hard to become relevant and stay relevant. A new medium is a great way to do that."
He predicts that it has long-term staying power, citing the quick rise of Instagram Stories. "[Instagram] has a solid track record of delivering positive experiences for both creators and users. As an alternative to YouTube, IGTV has a lot of potential."
Indeed, Instagram's number of users is quickly approaching YouTube's. The platform announced during the IGTV launch that there are now one billion users of Instagram globally.
Davids also predicted that brand deals will likely be a "seamless" part of the IGTV product.
Darcy MacNeil, director of Content+ with Mindshare Canada, also sees potential for brand integrations.
"Even with questions in the marketplace around who an influencer actually is, their content creation is still an important element in telling a brand story," she told MiC, adding that IGTV is likely to become an integral part of the agency's content planning.
"We'll be able to extend our partnerships with fellow Instagram creators to longer form video," she said, adding that the food and beauty categories are likely to see a lot of action in the space.
"Typically, when we produce a content plan with video, we work with creators in partnership to produce long-form videos on their YouTube channel, like a recipe video for example, and then we often include social content, particularly Instagram and Facebook to help extend the reach."
With the new product giving more options to house influencer content within one platform, she said, it's an exciting opportunity.