Spotted! A scavenger hunt merges online and offline
A contest from the Société des établissements de plein air du Québec aims to encourage people to explore what the province has to offer.
For the last week, Quebecers have been on a mission to seek, find and share a unique branded van.
The Société des établissements de plein air du Québec (Sépaq) launched a province-wide scavenger hunt encouraging adventure-seekers to get outside this summer, bridging the online and offline worlds.
The scavenger hunt was rolled out in partnership with agency Lg2, giving Quebecers the chance to live the (van) life for four days of exploring, courtesy of Sépaq.
All they have to do is find one of the two "Sépaqmobiles" hidden in different cities across the province. The challenge will run until July 18.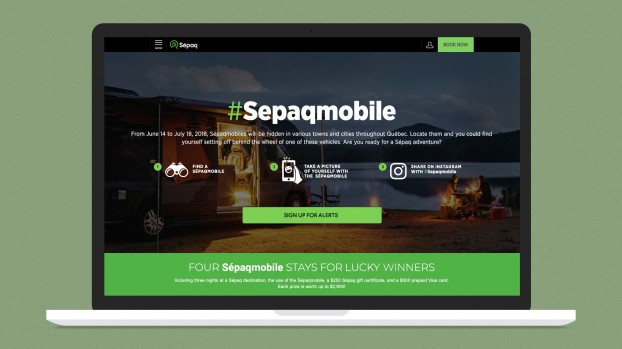 Van life culture has been made popular in recent years with floods of people around the world taking a break from real life in exchange for roughing it in the wild – and of course chronicling it on social media. Popular Instagram accounts include 188 Square Feet (22,000 followers) and Slow 'n' Steady Livin' (18,000 followers).
People can participate in the contest by signing up for notifications that let them know the locations of one of the Sépaqmobiles –  which will also be detectable through geo-targeted content – then sharing a selfie with the van using the #Sepaqmobile hashtag.
Campaign elements from Lg2 include a 60-second video and promotional content in cities the van will be rolling through until July 18.