Consolidated revenues dip 4% for Corus in Q3 financials
Decreasing ad revenues in its TV business continued to weigh on the media company's bottom line.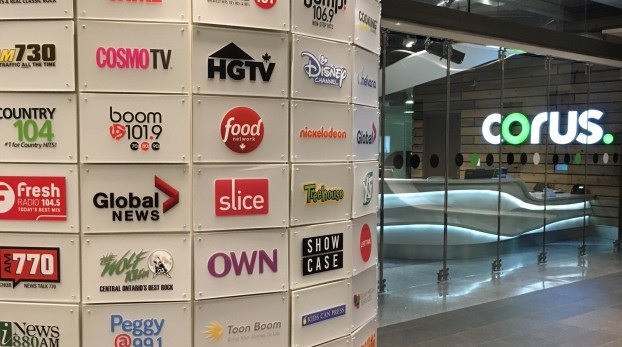 Corus Entertainment's consolidated revenues for Q3 fell 4% year-over-year as declines in its TV and radio business saw quarterly revenues fall to $441.4 million, from $461.6 million a year ago.
On the TV side, Q3 revenues were down 5% to $402.9 million, from $422.3 million last year, while overall TV revenues for the year to date were down 2% to $1.154 billion, compared with $1.183 billion in last year's Q3. Within that, TV advertising revenues fell 5% to $254.6 million in Q3, from $267.4 million a year ago. Meanwhile, subscriber revenues dipped by 1% to $126.1 million, which Corus attributed in part to the closure of the Sundance Channel.
In its radio business, segment revenues dipped 2% to $38.4 million, from $39.3 million a year ago. For the year to date, revenues derived from Corus' radio business remained flat at around $113.5 million.
In a move that Corus says will position it for future growth, the company announced Wednesday (June 27) that it has cut its dividend as it looks to reduce its debt. Starting in December, the company said it will pay a quarterly dividend of six cents per class B share, compared with its current dividend, which is a monthly payment to shareholders of 9.5 cents per class B share. According to Corus' EVP and CFO John Gossling, the reduction in the dividend will free up around $150 million in cash each year, which Corus will redirect toward deleveraging the debt taken on from Corus' $2.65 billion acquisition of Shaw Media's TV assets in January 2016.
That increased financial flexibility will not be put toward M&A activity, noted Gossling during Wednesday's analyst call, and the company will look to grow its content business organically in the coming years. Corus currently has 25 shows in production (14 of which are being produced through its kids business Nelvana and 11 via under its Corus Studios banner) and will continue to make strategic investments in "new revenue pockets" that could lead to future revenue growth, including its recently announced partnership with Twitter and its new social digital agency Soda. "We're going to continue to test and learn… and get smart about where future revenue growth could come from. But M&A does not fit into the picture at this point in time," said Gossling.
Elsewhere, president and CEO Doug Murphy said the CRTC's recent report on future distribution models – in which the commission suggested that internet service providers and wireless internet providers be required to contribute to the system alongside BDUs – is a promising sign.
"Canadian content support… cannot rest on the back of broadcasters and distributors alone. The vision we're beginning to see be revealed from the commission for a world beyond prescriptive licencing in the traditional licencing process has massive promise, especially given the fact we're in this really disruptive, rapidly changing digital era," he said.
"In candour, regulatory and policy reform just can't happen fast enough, so we're encouraged by the CRTC's comments on the need for change. We're hopeful that the government will follow quickly," he added.
Murphy did not comment on a recent report from the Globe and Mail that Shaw Communications is looking for a buyer for its 38% stake in Corus Entertainment.
This story first appeared on Playback