Spotted! Frankie Drake brings the roaring 20s to Toronto
Shaftesbury partnered with the City of Toronto to create 'Making History: The Women of Frankie Drake Mysteries and 1920s Toronto,' launched June 23.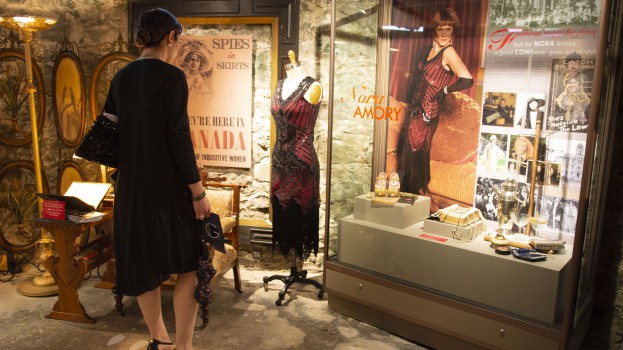 To build anticipation for the fall premiere of CBC's original 1920s detective show Frankie Drake Mysteries, production company Shaftesbury has paired with the City of Toronto to celebrate the iconic style and imagery of the show with an exhibit at the Spadina Museum.
The Toronto-based exhibit "Making History: The Women of Frankie Drake Mysteries and 1920s Toronto," was launched at the museum's fifth annual Gatsby Garden Party on June 23, a two-day event that boasts cocktails, croquet, jazz, dancing and hundreds of people dressed to the nines.
The exhibit showcases photos, props, costumes and artifacts, including a vintage radio. It runs until the end of the year.
According to Christina Jennings, Shaftesbury CEO and executive producer of Frankie Drake Mysteries, the goal of the exhibit is threefold: to raise awareness for the launch of the show's second season, expand the show to new audiences and get people interested in Toronto's history.
"You have to find ways to expand your brand beyond the passive experience of just watching it on television," Jennings said, adding that launching the exhibit at the annual Gatsby Garden Party at Toronto's Spadina Museum – a time capsule of the city from 1900 to 1930 – was too good to be true.

"You're always, as a producer, not only trying to extend your brand beyond television, but you're always trying to get new eyeballs," Jennings said.
The launch featured an activation inviting guests to have their photo taken with an iconic Ford Model T.
Shaftesbury plans to work with the City of Toronto to invite school groups to the exhibit as well as to do promotion with Tourism Toronto.
Frankie Drake Mysteries, which aired its first season last fall on CBC, tells the story of a female-only agency led by private eye Frankie Drake (Lauren Lee Smith, The Shape of Water) and her partner Trudy Clarke (Chantel Riley, The Lion King) as they investigate crime on the streets of Toronto in the roaring 20s. The second season will air starting Sept. 24.
The show drew an average audience of 782,000 for its first season.