Tennis Canada focuses on video in summer campaign
With a TV-led buy and strong digital and social component, the organisation is targeting a broader audience than the die-hard fans of the sport.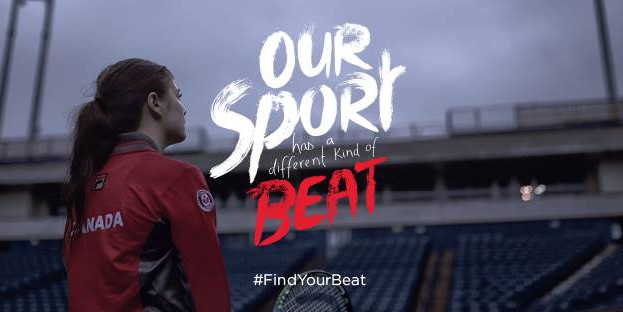 When it comes to media, Tennis Canada isn't trying to "do it all" with its most recent campaign.
With one month to go before the annual Rogers Cup tournament, Tennis Canada's new "#FindYourBeat" campaign promoting its athletes (both stars and up-and-comers) will be shown across television, digital and in theatre. But director of marketing Ben Makarenko said it's not trying to make other channels or content work just for the sake of spreading out the media plan.
"In the past we've tried to force in radio, or other elements that just really didn't work well," Makarenko told MiC. "We're really focusing on video, primarily on TV, and we've made it really user-friendly with our social buys."
According to Tennis Canada, more than seven million Canadians play tennis. The sport has seen a 30% increase in the last five years, as well as a 300% growth among youth. Makarenko said the organization styled the campaign's media buy and creative based on that growth.
"#FindYourBeat," which launched July 2 to coincide with the start of Wimbledon, includes tennis giants such as Denis Shapovalov, Milos Raonic and Eugenie Bouchard. But with the addition of junior players and up-and-coming talent who "aren't necessarily household names yet," Makarenko said its buy and targeting strategy is focused on broadening the tennis audience.
"We wanted to reach out to people who aren't necessarily huge tennis fans yet," he said. Besides its more traditional buys on TSN (during the Wimbledon broadcast) and Sportsnet, Makarenko said it was important to tap general audiences through ads on City, Rogers' digital channels and through Cineplex.
"It's a way to get out in the market and speak to people who know about tennis but are not necessarily die-hards," he said. "Our sport is not as mainstream as soccer or hockey."
Tennis Canada conducted its own media buy for the promotional campaign and partnered with creative shop Dot Dot Dash and PR agency North Strategic.
As for the Rogers Cup itself, Tennis Canada has also partnered with the TTC on an upcoming campaign to promote Line One (Spadina-University), which can be used to travel to the Aviva Centre near York University. With the TTC having recently constructed more stations in the city's north-end, including Pioneer Village Station (a quick walk from the Rexall Centre), the two parties will cross-promote around the event.