Glenlivet extends and amplifies Golf Canada partnership
The spirit brand has added several new interactive elements to its feature presentation at the association's RBC Canadian Open, happening next week.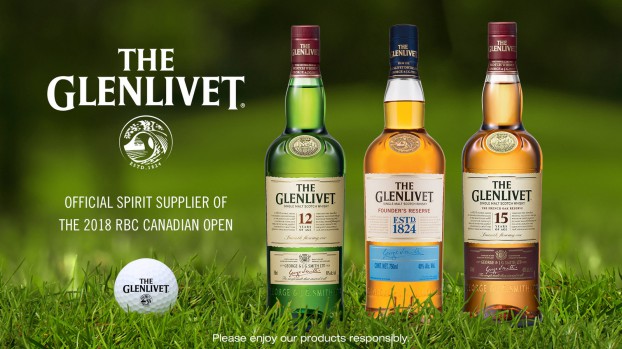 Scotch whisky and golf made their first appearance on bar rails and grass fields in Scotland six centuries ago. A lot has happened since the 1400s, but the spirit and sport continue to evolve alongside one another thanks to budding partnerships like that between Glenlivet and Golf Canada.
Once again, the Corby Spirit brand has extended its sponsorship of the association's National Open Championships, in particular the RBC Canadian Open and CP Women's Open taking place in July and August, respectively.
The two have been in partnership since the early 2010s, Bryan Lin, scotch whisky brand manager told MiC, but this year "we've amplified it" and "premiumized the experience for our consumers on-site to give them an elevated level of understanding of single malt scotch as a whole."
Working with Influence Marketing, Glenlivet has developed an activation that will take up a fair size of the RBC Canadian Open Spectator Village. Its on-site presence begins with a "cube" platform where tournament-goers can sample the Glenlivet Founder's Reserve, and extends to a second "tent" space where people can create and print their own custom labels for Glenlivet whisky bottles. The opportunity lies in being able to convert consumers who are encouraged to take the printed label to LCBO stores after the event, and apply it to a purchased bottle of whisky, said Lin.
Beyond being a gifting opportunity ("We wanted consumers to have a take-away that they'll remember the brand by," added Lin), the personalized label maker is also meant to get people to sign up for the brand's CRM program, called the Glenlivet Guardians, which currently has 32,000 members. It's also driving new subscribers at retail, handing out golf balls and cards at the LCBO with information about the program and how the brand has been partnering with Golf Canada on its events, he said.
From the feature tent in the Spectator Village, consumers will interact with Glenlivet once more, this time on the green with a VIP lounge area right behind the 16th hole, offering Muskoka chairs and more scotch whisky tastings only accessible to those who have signed up for the CRM program online or on-site. This special section of the course, and the label marker experience, is a new addition to the brand's regular Canadian Open activation, noted Lin.
Golf and Glenlivet go well together, as "there are synergies between both brands because of the heritage of the Open, one of the oldest tournaments on the PGA tour, and [the Glenlivet brand's] heritage as well, dating back to the 1800s, so we thought it would be a good opportunity to showcase that growth," he said.
"Our consumers are discerning men, so people who are high net worth, a little more polished, who speak about a variety of different topics, like to share their knowledge with friends and family, and basically have an appreciation for the finer things in life, [like] golf. So it aligns well."