Branded Cities strikes partnership for better OOH measurement
The deal with marketing tech company NinthDecimal will allow Canadian marketers more measurement and targeting options.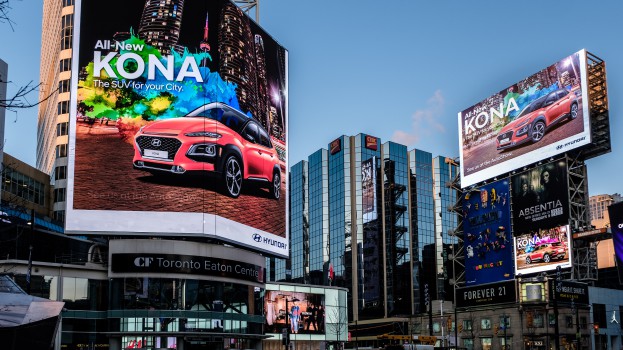 OOH media company Branded Cities has struck a new partnership with digital marketing technology and measurement company, NinthDecimal.
The partnership will see NinthDecimal (which gathers data and retargets audiences, as well as provides advertisers with measurement and statistics on ad interactions) use its technology for Branded Cities' OOH clients in Canada and the U.S.
CEO Brian Slitt told MiC the partnership is a plus for marketers because it adds OOH as a natural extension of an omnichannel strategy.
"It enables the [Branded Cities] sales team to say, 'Hey, that iconic billboard that we want you to buy? Let me tell you about the people that are typically around that billboard, places they shop, cars they own, online and offline behaviour,'" he said. The added insights, he said, will also allow marketers to amplify their messages on other platforms such as digital.
Slitt, who spoke to MiC from New York, said that amplification can make a major difference in driving people to stores. "I was just walking down the street in New York and I saw an ad for a CPG product," he said. "I might not go right to the store and buy that product, but if someone had the capability to reach me, through whatever targeting cycle they want, they can continue that amplification."
The partnership marks NinthDecimal's first endeavour into Canada. Slitt said that although some of its previous efforts have reached Canadian audiences, this is its first time partnering with a company that has a Canadian sales force.
"It's definitely a growth opportunity for us," he said. "The extension between Branded Cities in the U.S. and Canada is a major value proposition for us. We don't have a direct sales team in Canada, so leveraging the Branded Cities team is a great step for us."
He added that it's also a foray into the OOH world, which NinthDecimal does not yet specialize in. "We're not experts, but we can partner with the best," he said. "We want to be more than just a silo of 'the mobile guys' or 'the location guys.'"
Branded Cities first established a Canadian presence in 2017 when it acquired Clear Channel Outdoor. The company has a presence of just under 3,000 faces in Canada across 19 cities, with the majority being in Toronto, Montreal and Ottawa. According to the company, its network generates more than one billion impressions per year.