Bell courts gamers with e-sports sponsorship
The telco used a recent Red Bull tournament to showcase its fibre internet product.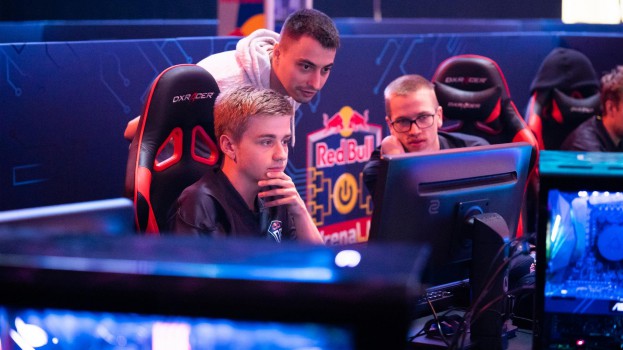 This past weekend, thousands of gamers and gaming fans gathered in Toronto's International Centre for the Red Bull AdrenaLAN gaming event. The festival featured gaming stations, tournaments for Dota 2 and Starcraft II, as well as a hackathon. It was powered by Red Bull, which is known for aligning itself with more traditional physical sporting events, as well as by Bell.
Both brands have been growing their presence in the e-sports market (Red Bull even built an underground e-sports bar in a U.K.-based experiential play). Bell previously served as a sponsor for a major tournament by e-sports league Northern Arena in 2016, broadcasting highlights on TSN and BNN.
David Rivers, director of sponsorships at Bell, told MiC the sponsorship was part of an effort to reach the gaming audience and bring in a young cohort of customers.
"If you look at gaming in general and the audience that would define themselves as gamers, we know that they're a tech-savvy, early adopter in terms of technology," he said. "These are people who are taking the time to optimize their PC. Productivity and the internet is critical for them."
He said as Bell continues to roll out its FTTH fibre internet package, it's "critical" to connect with that gaming community.
The tournament itself was an opportunity to showcase the fibre features. Bell provided the connectivity for the tournament from two, 10-gigabit dedicated network lines into the event. "Everybody at the event who is gaming [got] a chance to play on a one-gig service," he said. "From our point of view, it's really product integration at the network level, and that's how we bring the activation to life."
Bell used its internal sponsorship teams to integrate into the event without the use of an agency. An estimated 3,000 attendees were present at the tournament, with additional views on Twitch.
By year-end, the e-sports market is expected to be worth $1.92 billion, with 190 million players from around the world expected to partake in e-sports, according to research from NewZoo.
Red Bull declined an interview opportunity with MiC.