Spotted! Tweed chills out on Queen Street
The licensed cannabis producer is educating and introducing itself to Torontonians through a street-level pop-up.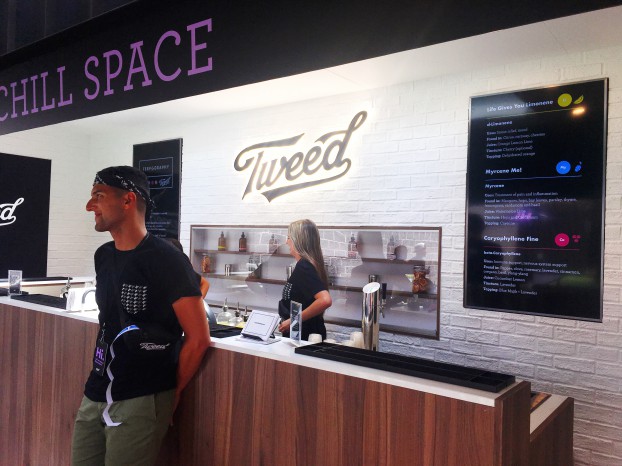 Licensed cannabis producer Canopy Growth is introducing Tweed to downtown Toronto.
Arming itself with a pleasant play-on-words message – simply stating "Hi" through an installation – Tweed has set up in the foot traffic-heavy Queen and Peter street intersection to invite passersby to learn more about its product.
While Tweed isn't handing out samples, it is offering fun activities such as a ring toss and a giant Jenga game, while also offering up quick educational tidbits about recreational cannabis in a relaxing, summer-friendly environment. The brand has created plenty of lounge space for socializing, while playing reggae music and offering complimentary kombucha (inspired by Tweed's various strains and varieties that will be available for consumer purchase in October), the goal of the activation is to increase awareness of the Tweed brand and its various strains (including one named "Boaty McBoatface") while also educating Torontonians about cannabis.
The pop-up is part of the broader "Hi" campaign, which Cossette designed creative and planned media for. Vancouver-based experiential agency Behaviour handled the pop-up concept. The "Hi" campaign consists mainly of digital, video, OOH, sponsorships and influencer marketing.
Experiential has been a major part of Tweed's advertising strategy, setting up shop as a sponsor at various events and music festivals. In June, it had brand presence at both Toronto's Field Trip music festival and the Toronto Pride celebrations (including a float in the parade), and is among the sponsors for the upcoming Dreams Festival, Boots and Hearts and Camp Wavelength music festivals in August.
Health Canada recently issued a statement expressing concern about licensed producers engaging in sponsorships and certain promotional activities since the Cannabis Act is yet to come into effect, making the promotion of cannabis subject to the Narcotic Control Regulations (NCR). The Cannabis Act, which does not come into effect until Oct. 17, states that it is prohibited to display, refer to or otherwise use any brand element of cannabis, accessories or services in the sponsorship of an activity or event – except in a prescribed place where no minors are present. For its part, Tweed enclosed the space with high walls and had a person stationed at the front of the entrance to ensure only those over 19 were allowed entry.
For its part, Canopy Growth continues to promote a message of education. In a statement to sister publication strategy, the brand said it "is focused on supporting education as well as responsible adult use."