Sportsnet extends its brand to bricks-and-mortar
The brand has put its name on the restaurant that overlooks the field at the Rogers Centre as a way to get up close and personal with sports fans.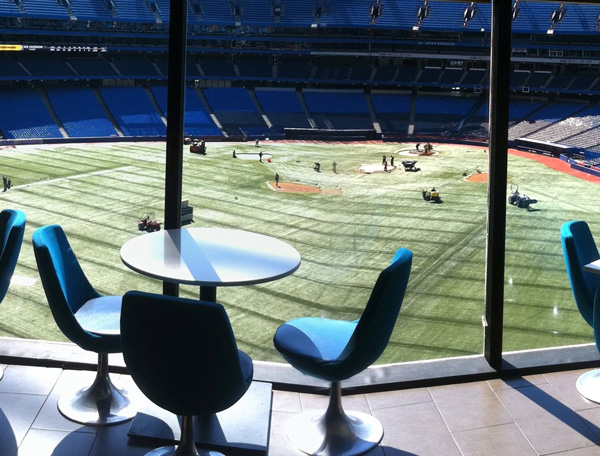 Sportsnet, the home of Hockey Night In Canada, is now also the home of burgers in Toronto. The Rogers Media-owned brand has put its name on the 220-seat restaurant that overlooks the field at Toronto's Rogers Centre, home of the Blue Jays.
The brand extension is being used as a way to further engage with sports fans and provides Sportsnet's TV broadcast team with a new studio space. Sportsnet Radio the FAN aired a broadcast live from the venue to celebrate its opening Wednesday afternoon.
Sportsnet also hit the streets around the stadium to spread word of the opening, using a pop-up activation to give out food samples and let fans take augmented reality photos of themselves – all under the brand's "United By Sport" campaign, which was launched last year in an effort to engage with a more diverse audience.
Scott Moore, president of Rogers' Sportsnet and NHL properties, said he sees it as a continuation of an ongoing plan to get Canadians interacting with the brand more, and that down the road, there may be opportunities for advertising partners to integrate into the restaurant.
Moore said the network has been working to strengthen and unite its branding overall, and the restaurant carries that program forward. When Moore arrived at the company in 2010, its sport radio stations operated under individual brands, and Sportsnet's TV branding was separate from the Rogers-run Setanta Sport station. All of that has been brought under the Sportsnet umbrella, along with assets acquired from theScore. "We continually look for ways to make our brand relevant to sports fans," Moore said.
Despite all that, Moore says the restaurant was an unexpected opportunity. The company was approached by Marriott Hotels, which had been operating the venue under the name Arriba. Marriott pitched the idea to rebrand the space as a sports bar using the Sportsnet name.
Marriott still operates and manages the space, licencing the brand to use in the venue. Rogers Media gets a portion of the restaurant's revenue. Moore would not provide exact details of the financial arrangements, but said the media company does not view this as a profit-making venture.
Across all of 2017, Sportsnet's three main TV properties collectively earned a 5.2% audience share and an average minute audience of 192,000.