Status ads are on their way to WhatsApp
Facebook is monetizing the messenger app feature with ad inventory that will be available for sale in 2019.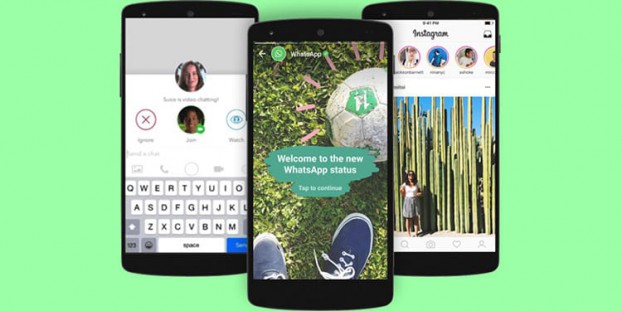 Facebook-owned WhatsApp is creating ad inventory for its Status feature, which allow brands to place their campaigns into the messenger service's most curated content. The service will begin selling its new ad inventory in 2019.
Similar to Snapchat and Instagram's Stories function, WhatsApp Statuses (launched in early 2017) let users assemble a selection of images and videos into a short stream that friends can watch.
With a recent push to get more businesses interested in using WhatsApp (with the release of a business-only API), many saw the Status ads as an inevitable next step, given their prevalence on other platforms.
"We think stories [are] an appropriate place to discover a business," said Matt Idema, WhatsApp's chief operating officer, in a statement.
Sarah Thompson, CSO at Mindshare Canada, told MiC that Stories are a "proven format." While revenue numbers aren't available for WhatsApp (or top competing messengers Instagram or Facebook Messenger, all of which are owned by Facebook), she says advertisers have flocked to these spaces.
Thompson is encouraged to see more advertising opportunities on WhatsApp, which until now has focused its efforts on providing customer service tools like chatbots to businesses.
"If you start to think about marrying first-party data from that customer service platform with the environment they have, you can start to really see the addressability benefits in WhatsApp," she said.
According to a recent comScore Mobile Metrix report, WhatsApp accounted for 37% of all time spent on messenger apps in Canada in December 2017. And Pollara research conducted in May of this year showed 33% of Canada's messenger users are using the service. (Facebook Messenger, which also has a Stories-like feature, led the field in that survey with 71% of participants.)
Globally, WhatsApp reported its daily active user count hit 450 million in May.
Tasnim Noman, account supervisor on Wavemaker Canada's paid social media team, thinks it's likely Facebook will package WhatsApp Status ads with Instagram and Messenger Story ads, as it will benefit advertisers to have one technical format across all platforms.
Noman says her agency has been recommending story-feed ads to clients more and more, and is seeing increased interest as time goes on. So far, that's largely been on Instagram, but it's her view that what works there will work on WhatsApp.
Thompson agrees, as the principles of messenger marketing are universal. "To be successful in these places where people are talking to each other, you have to appreciate good creative and appreciate the context you're playing in," she said. Running a 30-second television spot simply doesn't work in a format where users are scrolling quickly to see what their friends have posted. Testing custom marketing for the space is a must to be effective.
As for pricing, there's no official word yet on how WhatsApp will price Status inventory. Noman says she expects pricing to follow a similar pattern to Instagram Stories' ad roll-out. At launch, she was able to buy that inventory at a CPM of $2 to $3 range (while they typically move in the $4 to $6 range now).
WhatsApp also recently expanded support for its WhatsApp Business app, which allows direct communication between users and businesses. That now includes a "click to chat" button on its interface. New cross-platform functions also allow users who need personalized communications (such as board pass or shipping information) to receive it through WhatsApp after providing a phone number through company websites and apps.