Spotted! Quebec City gives visitors a cold welcome
A chilly pop-up installation hopes to lure the city's summer tourists back for the winter months.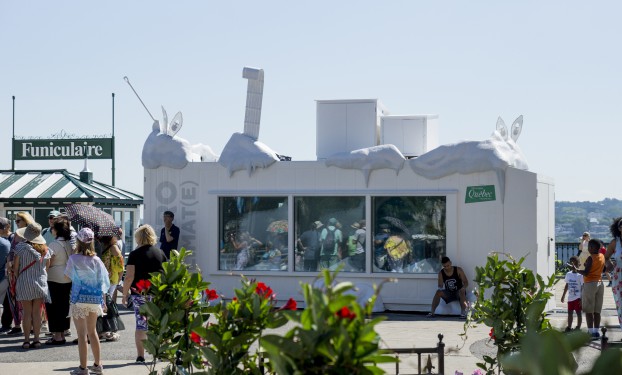 Quebec's capital city is currently experiencing scorching 30-degree-plus weather, which makes its latest tourism activation a welcome respite for tourists.
Micro Climat(e) is a shipping container-sized refrigerated pop-up offering a taste of the city's winter experiences. While Friday's weather is expected to reach 29 degrees celsius, people inside will instead experience a cool four degrees celsius.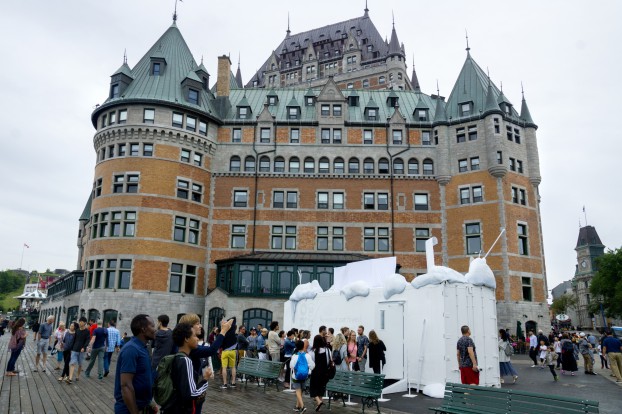 Developed for Quebec City Tourism by Ateliers du Carnaval de Quebec, the container opened July 3 with ice sculptures, a mini ice hotel, a ski lift and regular visits from Bonhomme de Neige, the mascot of Quebec City's famed Winter Carnival. The installation's 10 staffers have been on hand to provide more tourist information.
Quebec City averages approximately 2.5 million tourist visits each summer and 1.5 million between December and March. Eric Bilodeau, director of marketing and communication at Quebec City Tourism, said the purpose of the pop-up is to get those summer tourists to consider a return for winter activities.
The province is in the middle of a five-year plan to increase its tourism traffic by 15%. The plan launched last year when Quebec City reported record-breaking numbers of visitors: the city's hotel industry raked in $3 million in 2017. (An increasing number of those tourists are from Asia, specifically South Korea. A popular Korean soap opera called Goblin: The Lonely and Great God is shot in Quebec City.)
Micro Climat(e) is currently installed near the Chateau Frontenac until Sept. 3, engaging tourists and media (Bilodeau says American and European news outlets have already run stories on it). After that, the tourism body is planning to bring Micro Climat(e) to Toronto to garner interest from Ontarians. Bilodeau says the installation may travel to other cities from there.