TIFF 2018: Nespresso makes it official, RBC adds five years
A first look at how some of Canada's big brands are investing in activations at the country's biggest film festival.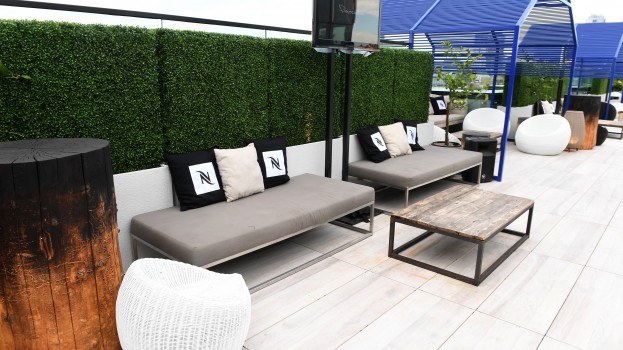 With the 2018 Toronto International Film Festival (TIFF) on the horizon, Media in Canada looks at how some brands will activate at the event that draws nearly half-a-million film-goers and celebrity-watchers to the city's entertainment district.
Nespresso joins the sponsor pack
Nespresso has been present at TIFF events in the past, but always in partnership with an official sponsor. (Last year it worked with ET Canada, for example, on Facebook broadcasts from the event.) But this year, the Nestle-owned single-serve coffee brand has signed on as an official TIFF sponsor.
In addition to hosting two premiere parties, Nespresso is presenting "Talents," a competition designed to bolster the careers of young creators working in vertical video formats. The event's theme is "The Difference She Makes," a spotlight on female change-makers.
The brand is still working in partnership with other sponsors, however. It's teamed with RBC on "Coffee With Creators," an interview series conducted at RBC House. Last year, celebs such as Julianne Moore, Brie Larson and George Clooney (Nespresso's official brand ambassador) all took part in the series.
It's also working with the restaurant Montecito (a frequent stop for celebs attending the event) on developing recipes inspired by the festival.
A Nespresso pop-up cafe will be installed on the festival grounds, and the brand's brick-and-mortar boutiques around Toronto will bear a red carpet theme throughout the festival, serving movie-inspired drinks.
RBC rolls out the red carpet
RBC will continue to have a presence at TIFF. It's been an official sponsor since 2008 when it signed a 10-year deal (much of which helped complete the TIFF Bell Lightbox, according to The Globe and Mail.)
As part of its 2018 activation, the bank will bring back RBC House, a pop-up facility that hosted a number of premiere parties and speaker events when it debuted in 2017. Maisie Williams, Andrew Garfield, Elle Fanning and Rachel McAdams were among the many Hollywood stars who appeared. RBC House will continue to host events that promise yet more celebrity sightings, along with concerts, speaker series, parties and film junket interviews.
The financial institution is also bringing back its Avion Lounge, sponsored by its travel-and-lifestyle-focused Avion Visa card. The lounge will house three branded music events for festival goers.
Also returning this year is the RBC Red Carpet Gallery, the branded procession space where fans can snap pics of celebs walking down the red carpet.