Amazing Race Canada makes gains: Numeris
Now on a four-week streak, it pulled farther ahead of America's Got Talent.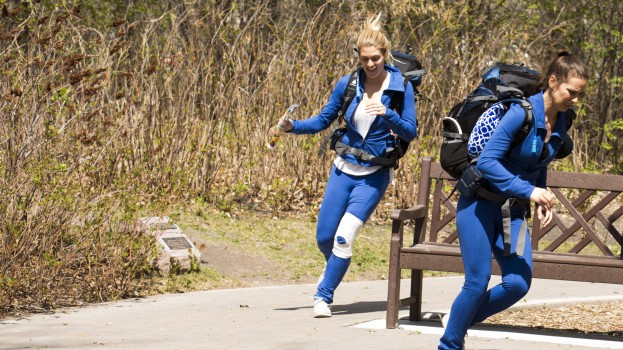 Just when it looked like America's Got Talent was closing in on The Amazing Race Canada, CTV's globe-trotting reality series made some gains over its totals last week. For its broadcast on Aug. 7, Race pulled in an average-minute audience of 1.87 million viewers, making it the most-watched single-night program in Canada and gaining over its previous week's total of 1.65 million viewers. That's according to the most recent Numeris report, covering Aug. 6 to 12.
Meanwhile, second-place finisher America's Got Talent held onto the runner-up position, but lost some viewers, bringing in 1.43 million (down from 1.58 million).
Big Brother once again took the third and fourth spots for its Thursday and Wednesday episodes, while MasterChef snuck into the fifth-place spot, rounding out the top shows.
Regionally, the top spot alternated between Race (Edmondon, Calgary) and AGT (Montreal, Toronto, Vancouver). In the Francophone market, Viens-tu faire un tour? shot up to the top spot with an AMA of 642,000 viewers.
Canada
1. The Amazing Race Canada on CTV Tuesday at 8 p.m.: 1.87 million viewers
2. America's Got Talent on City Tuesday at 8 p.m.: 1.43 million viewers
3. Big Brother on Global Thursday at 9 p.m.: 1.27 million viewers
4. Big Brother on Global Wednesday at 8 p.m.: 1.23 million viewers
5. MasterChef on CTV Wednesday at 8 p.m.: 1.14 million viewers
Montreal (Anglophone)
1. America's Got Talent on City Tuesday at 8 p.m.: 63,000 viewers
2. MasterChef on CTV Wednesday at 8 p.m.: 56,000 viewers
3. The Amazing Race Canada on CTV Tuesday at 8 p.m.: 51,000 viewers
4. The Big Bang Theory on CTV Thursday at 8 p.m.: 48,000 viewers
5. American Ninja Warrior on CTV Monday at 8 p.m.: 47,000 viewers
Quebec (Francophone)

1. Viens-tu faire un tour? on SRC Sunday at 8 p.m.: 642,000 viewers
2. Cinémax on TVA Saturday at 8:15 p.m.: 583,000 viewers
3. Les poilus on SRC Sunday at 7:30 p.m.: 558,000 viewers
4. Chicago Fire: Caserne 51 on TVA Thursday at 7 p.m.: 506,000 viewers
5. Ma maison bien-aimée on TVA Monday at 8 p.m.: 505,000 viewers
Toronto/Hamilton
1. America's Got Talent on City Tuesday at 8 p.m.: 384,000 viewers
2. The Amazing Race Canada on CTV Tuesday at 8 p.m.: 348,000 viewers
3. MasterChef on CTV Wednesday at 8 p.m.: 239,000 viewers
4. Big Brother on Global Wednesday at 8 p.m.: 217,000 viewers
5. Big Brother on Global Thursday at 9 p.m.: 210,000 viewers
Edmonton

1. The Amazing Race Canada on CTV Tuesday at 9 p.m.: 89,000 viewers
2. MasterChef on CTV Wednesday at 9 p.m.: 72,000 viewers
3. Big Brother on Global Wednesday at 9 p.m.: 63,000 viewers
4. Big Brother on Global Thursday at 10:01 p.m.: 61,000 viewers
5. America's Got Talent on City Tuesday at 9 p.m.: 60,000 viewers
Calgary

1. The Amazing Race Canada on CTV Tuesday at 9 p.m.: 85,000 viewers
2. America's Got Talent on City Tuesday at 9 p.m.: 71,000 viewers
3T. MasterChef on CTV Wednesday at 8 p.m.: 50,000 viewers
3T. Take Two on CTV Thursday at 8 p.m.: 50,000 viewers
5. American Ninja Warrior on CTV Monday at 9 p.m.: 45,000 viewers
Vancouver/Victoria
1. America's Got Talent on City Tuesday at 8 p.m.: 189,000 viewers
2. The Amazing Race Canada on CTV Tuesday at 8 p.m.: 136,000 viewers
3. MasterChef on CTV Wednesday at 8 p.m.: 102,000 viewers
4. The $100,000 Pyramid on CTV Sunday at 9 p.m.: 90,000 viewers
5. Big Brother on Global Thursday at 9:01 p.m.: 82,000 viewers