Campsite gets into large format programmatic OOH
A newer, larger deal with Pattison Outdoor has brought the digital advertising company into a new space.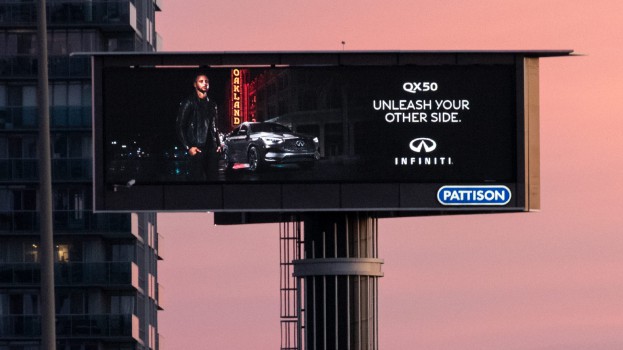 Out-of-home buyers can now purchase ad space on Pattison's large format outdoor ads programmatically.
Pattison Outdoor Advertising has extended its partnership with location-based digital advertising company Campsite to offer more of its formats programmatically. Last year, Pattison added its OneStop office, transit and residential portfolio to Campsite's network. Now, it's also added large format digital superboards, posters, spectaculars and street ads to Campsite's platform. This represents 225 digital products now accessible through Campsite on an open auction platform.
The first campaign to run through the new programmatic offering is one for Nestlé Minis, brokered by IPG agency Cadreon.
For Campsite, this is the company's first foray into large outdoor formats. Previously, it had had built its clientele in indoor, location-based spaces, such as resto-bar networks and office advertising, said Edith Gagné, VP of development for Campsite.
"We've had our sights set on the outdoor area for quite sometime," Gagné told MiC. "I think it served us really well to start indoors, both in terms of developing the technology and building that trust with the industry in general."
With the larger format option, Gagné said it can now offer buyers more scale.
In the two years since Campsite launched, Gagné said the 2017 deal it inked with Pattison OneStop has been one of the biggest boosts for it. "That really was the start of our growth," she said. "Our partnership with Pattison has helped us both in terms of scale and in terms of forging good relationships."
Currently, Campsite has 6,000 digital screens on its platform.