Steam Whistle makes a big return to TV
Marketing director Tim McLaughlin explains that the brand has shied away from buys that made it seem 'too big' or 'no longer craft.'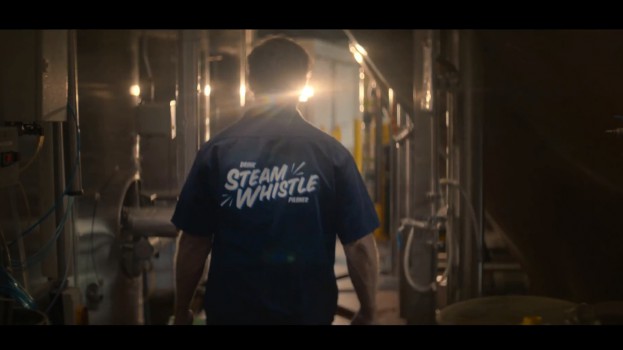 This summer, Steam Whistle Brewing made its first TV buy in nearly 10 years.
The campaign, which launched the May long weekend on radio and added TV into the mix mid-June, coincided with the Toronto-based brewery's recent brand refresh.
Tim McLaughlin, director of marketing, told MiC the brand's new positioning worked best when it could add a more visual element. The new branding is focused primarily on being transparent with regards to the brand's brewing process and ingredients (McLaughlin pointed out that it's not mandatory for brewers to post ingredients on beer cans and labels, which Steam Whistle now does).
"We could use the visual [TV] format to show the spring water, to show the roundhouse where we brew our beer, to help things come to life in a visual form," he said. At the same time, he said, TV helps to "make a statement about the position we want to hold in the Canadian market."
When asked to elaborate, McLaughlin said Steam Whistle was in a unique position – it's a craft brewery, but he admitted it is increasingly seen as a more mainstream beer on a national level. As such, he said, TV worked for a more mass-appeal buy, one that would attract new drinkers, particularly people who drink premium imports, he said.
But the attempt to go mass also posed a unique challenge, said McLaughlin. "We've previously made choices that are more reflective of a craft brewery," he said, elaborating that it's mainly advertised through digital, social and radio buys, and community-based print. "We were, at times, afraid to come across as too big or no longer craft."
McLaughlin added that although TV is a pricier investment, it helped them be more nimble with their media dollars than they initially thought. "The investment in production enabled us to take our social strategy to the next level," he said. "We were able to develop some high-quality assets for social and digital. Historically, we've been using static ads and images, as opposed to rich video content. With this TV ad, we now have a roster of great assets. We developed 35 pieces of content out of that one TV spot."
That works with the craft brewery-level desire for efficiency, said McLaughlin. "We have great resources, but not compared to the Molsons and Labatts of the world."
The campaign concluded Labour Day weekend. While McLaughlin wouldn't speak to exact figures, he confirmed that the brand has seen a "double-digit" lift in sales since the start of the campaign. Steam Whistle worked with Wavemaker on the buy, and with Rack and Pinion on the video.
The biggest learning from the campaign, said McLaughlin, was in "learning to capitalize on understanding seasonality," and knowing to mix up the media plan for certain seasons. He added that this worked specifically as a summer campaign. "Having it be an integrated campaign was also part of the success."