The Globe and Mail launches cannabis news service
The Report on Business Cannabis Professional is a subscription service aimed at giving industry insiders the scoop on the growing cannabis industry.
The Globe and Mail is embracing the cannabis market with the launch of a subscription newsletter ahead of federal legalization next month.
The Report on Business – Cannabis Professional digital vertical launched Monday and consists of a weekday morning B2B newsletter covering the burgeoning marijuana industry, including breaking news, policy decisions, financial activity and business strategy.
"It's a way to not just get out in the industry but really experiment with some new products and new ways to sell our editorial," Cannabis Professional editor, Rob Gilroy told MiC.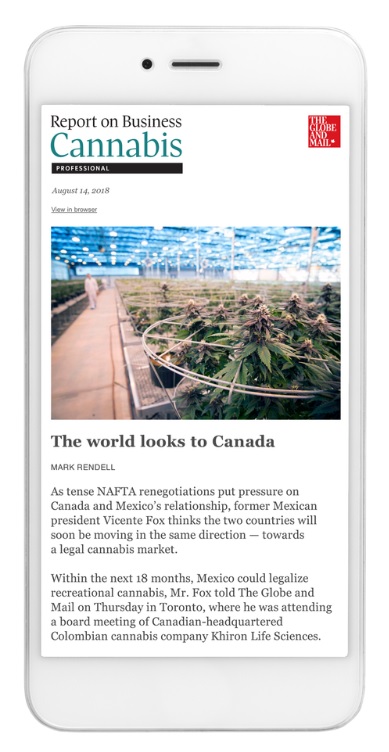 The Globe isn't alone. Interest in the industry has spiked as legislation day inches closer in the country, with Postmedia having launched its own online cannabis publication, The Growth Op, in June.
According to Gilroy, the newsletter format allows Cannabis Professional to deliver significant cannabis news to subscribers as it breaks.
"They would get it, in some cases, even before it's posted on our website," he said. "That's one of the differences in this approach: that we're going to break news to subscribers first."
Another key difference, however, is that Cannabis Professional is courting audiences, not advertisers. Currently, the report will be supported only by subscribers rather than advertisements, unlike Postmedia's Growth Op, which is ad-supported.
Gilroy said its target demographic is the cannabis industry itself, which includes "all the big licensed producers, all the ancillary players in the industry, legal, public relations – basically anyone who's making cannabis a business priority."
Gilroy is joined by journalists Christina Pellegrini, Mark Rendell, Marcy Nicholson, Jessie Willms, David Milstead, Andrew Willis and David Berman, with Report on Business editor Derek DeCloet overseeing the publication, which is not included in The Globe and Mail print or digital subscriptions.
Cannabis Professional is currently on sale for $999 per year, with the regular subscription price set at $2,000 per year.