ICYMI: Le devoir gets a brand boost, Facebook adds to its News Feed
Plus, popular U.K. series Dynasties will premiere across Canada on BBC Earth this fall.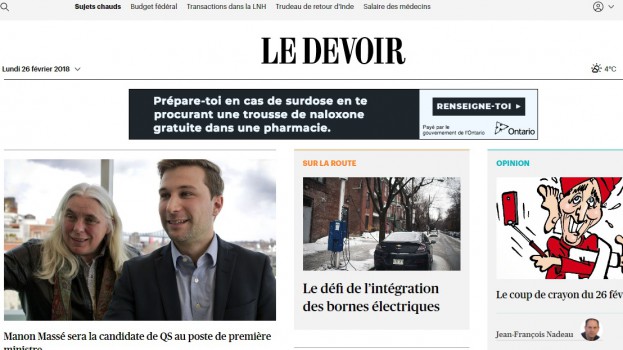 Transat gets behind daily Le devoir
Transat has thrown its support behind independent daily Le devoir. The $500,000 fund will enable Le devoir reporters and contributors to engage in foreign correspondence, which Le devoir says it has not been able to fund as much as its competitors due to its high cost. Since 2015, 3,000 people have donated close to $1.5 million to Le devoir, or to its non-profit support organization, Amis du devoir.
Facebook's context button for News Feed
Facebook has introduced a "context" button to its News Feed for Canadian users. The button enables readers to evaluate the credibility of an article and determine whether or not to trust the article's source. Some of the information provided would include the publisher's Wikipedia entry, related articles on the same topic, information about how many times the article has been shared on Facebook, where it is has been shared, as well as an option to follow the publisher's page. This new feature is part of the social platform's ongoing efforts to combat fake news.
Dynasties comes to Canada
Blue Ant Media's BBC Earth will bring the Canadian premiere of the popular U.K. unscripted series Dynasties to viewers. The series, narrated by Sir David Attenborough, will premiere later this fall (date TBD). The five-part series (from the creators of Planet Earth II), follows the world's most celebrated but endangered animals as they do whatever it takes to survive and protect the next generation. The first episode will premiere on all Blue Ant Media channels, including BBC Earth, Cottage Life, T+E, Love Nature and HIFI. Blue Ant Media is offering sales and sponsorship opportunities for brands and advertisers to align with this broadcast event across television and online platforms.
KBS merges with Forsman & Bodenfors
MDC Partners has merged KBS with Swedish agency Forsman & Bodenfors (the shop perhaps best-known for the "Epic Split" video for Volvo Trucks), creating a new global agency under the Forsman & Bodenfors name. The merger will bring together 700 employees from Forsman & Bodenfors offices in Gothenburg and Stockholm, as well as KBS' offices in Toronto, Montréal, New York, London, Shanghai and Singapore. KBS's full-service media agency brand, The Media Kitchen, which launched a Canadian outpost last year, will retain its name and continue to offer its services as usual. Although Forsman & Bodenfors serves primarily as a creative shop, it describes its approach as one that specializes in data, analytics and media expertise to fuel its creative.