Kristie Painting on steering Wavemaker into the future
The newly minted CEO talks about some of the opportunities she's eyeing across the border.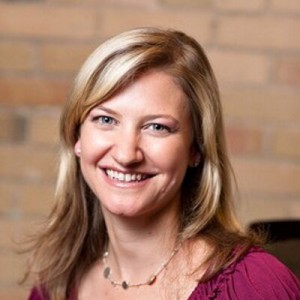 "There's less of a difference than you might automatically assume," Kristie Painting said of her new role. Painting, the newly minted Canadian CEO of GroupM agency Wavemaker, was responding to the question that is quite possibly on everyone's minds: why jump from the sell side to the buy side?
Painting spent two years as VP of sales, digital services and platforms for Bell Media, and also led sales for Checkout 51, Olive Media and more. This position, which Painting assumed from former CEO Ann Stewart, is Painting's first official foray into the agency world.
But going straight to the corner office from the other side of the industry doesn't faze Painting one bit, she said. "Essentially, everyone is searching for the same answer, which is how to deliver appropriate business solutions," she said. "On the publisher side, you come at that from a very specific point of view, but ultimately, the goal is very similar."
GroupM CEO Stuart Garvie, whom Painting will report to, added that the buy and sell side – terms he admits he's hesitant to use these days – merely offer two different viewpoints of the same thing. "There's disruption through various degrees and various levels," he said. "Not just digital, but technology in general. It's leading to a very fragmented and confusing landscape, and I think that point of view is relatively the same for a lot of people."
It's the second time this year a Canadian shop (or agency group) has hired a new CEO who has never worked at one before – earlier this year, Graham Moysey took the top post at IPG Mediabrands, overseeing the operations of major agencies including UM, Initiative, Cardeon and more. Moysey, although an industry veteran whose resume includes stints at Bell Media, Oath and CanWest, had never before worked for an agency, let alone in the C-suite.
Garvie himself also took the CEO post following a brief tenure on the sell side (he spent two years as head of sales for Bell Media, working closely with Painting), although he had previously worked in senior and C-suite roles with Canadian, global and U.K. agencies.
Among Painting's proudest accomplishments at Bell Media was assisting in the development of the company's advanced television products. "Being able to incorporate addressable and data-enhanced television, honing those digital data capabilities, that was exciting," she said.
With her position being so digitally focused – and therefore touching numerous facets of Bell's media business – she said it helps give her a diverse perspective for the agency. "I've worked in lots of different facets of media, with a lot of specific focus on the CPG industry and around shopper marketing and path-to-purchase industries. I think that experience is going to be very crucial when helping clients."
But the Canadian market is not without its challenges, Painting and Garvie agreed.
"We're so close to the U.S.," Garvie said. "There are so many media factors that play out in a lot of different ways. They're similar, but we don't always have the same access. And the two biggest media vendors are vertically integrated telcos, which sometimes skews the way media is sold."
Painting added, "When you have understanding of those media solutions [in the U.S. media landscape], it informs the questions that come out of the Canadian clients. It's a bit of a kid in a candy shop situation. You see the opportunities that are right on the other side of the glass, but it doesn't translate."
Some of those opportunities Painting is eyeing from across the border include stronger attribution and ROI tracking. "The challenge in Canada is the scale of the market itself. We have to be a little more creative."
But Garvie said this can be as much of an opportunity as it is a challenge. "We're a market that's sizeable enough to make a difference, but we're small enough to be innovative. That's where we need to continue to focus our efforts in finding and creating new products."