The Athletic goes experiential with Homestand Sports
The partnership is the first-ever cross-Canada tour for The Athletic as part of an effort to engage with Canadian fans.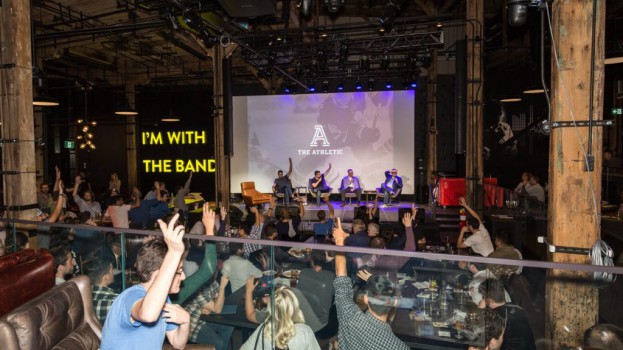 The Athletic, an American subscription-based sports news platform, launched its first cross-country tour in Canada through a partnership with Toronto-based experiential sports company Homestand Sports (which is known mainly for producing live sports talk series that include Pitch Talks, Footy Talks and Puck Talk).
Kevin Kennedy, president of Homestand Sports, told MiC the tour is part of an effort to bring The Athletic's sports journalists and its Canadian readers together, and to give an offline experience to the active online community.
The Athletic Cross Canada Tour began Sept. 22 in Winnipeg, and will stop at every remaining NHL city (Calgary, Edmonton, Montreal, Vancouver, Toronto and Ottawa) over the next week. As of Sept. 20, the Winnipeg event had close to 1,500 RSVPs.
The tour will feature sports panels with the site's slate of local reporters and columnists, as well as special guests from local media outlets. National contributors such as James Mirtle, Pierre LeBrun, and Eric Duhatschek will be present as attendees. Tapping Canada's market of ravenous sports fans, the partnership helps The Athletic engage with Canadians by increasing the number of events it hosts in the country.
Taylor Patterson, head of communications for The Athletic, told MiC that the company differs from other media outlets because of its subscription-based model, and Homestand helps to foster that relationship with subscribers. Patterson would not reveal the exact number of subscribers, but confirmed that The Athletic has more than 100,000 subscribers across North America.
The new agreement (which the two companies worked directly together to broker) will also see The Athletic contributors prominently featured at Homestand Sports' future events (including its sports talk series and special viewing parties).
Although no brands have signed on as sponsors for this tour, a representative for Homestand said the two companies are looking to engage brands down the road for potential on-site activations and integrated branded content opportunities at future events.