Knix makes its first OOH move
Founder Joanna Griffiths says the time has come for mass brand-building efforts, rather than just demo ads on social.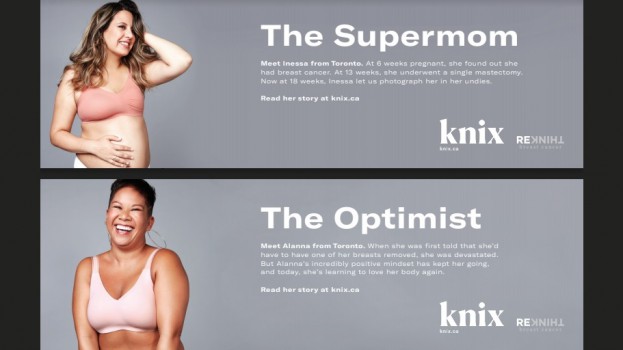 Intimates brand Knix's strategy is almost entirely rooted in the online world – founder Joanna Griffiths was able to produce her first set of undergarments through crowdfunding, and two years ago the brand (which previously sold through wholesale deals with retailers) pivoted exclusively to online sales through its own website (save for some experiential and pop-up events).

So it makes sense that up until now, Knix has spent its media dollars on social and digital advertising, attracting online shoppers through video and display ads. But now, it's gone for a much larger display: an out-of-home buy in Toronto.
The transit-centred campaign goes live Oct. 7 and will include a mix of above and underground installations.
Griffiths told MiC more than 70 large-format posters will be scattered throughout subway locations around the city. TTC vehicles will also have wrap advertising, and the brand has also bought a number of above-ground streetcar murals. The campaign was done in partnership with Rethink Breast Cancer, with creative centred around telling the stories of breast cancer survivors.
She added that it was important to use transit in order to make a play for its target demo – working women. "Leveraging transit is a good way to reach busy people," she said. "At the same time, a lot of our customers are… not necessarily taking the subway, so the above-ground component was really important to us as well."
Griffiths said the scale of Knix played a major part (while she wouldn't share exact dollar figures in sales, she said sales are up four times from this point last year, and sales have grown by 1,000% since it shifted to the online-exclusive model), but for a while, "we were honestly a little afraid to try [mass advertising]."
Knix has done most of its marketing in-house (indie agency Co-Op assisted with the media buy and planning), and Griffiths said most of its advertising has focused on in-feed social buys so it could demonstrate the uniqueness of the brand's wire-free bras. Now, she said, it wants to move into broader brand building and promoting its messages of inclusivity, diversity and body-positivity. OOH was a good avenue for that, she said.
"We want consumers to understand our higher-level brand meaning, and have it not just be something they experience in their news feed." She said it's "step one" in a more diversified media strategy, and although she did not share any specifics of what's next on the media plan, she says the brand will be looking to go down other advertising avenues.
Last year, Knix hosted an impromptu fashion show on Toronto's Richmond street, and paired with female empowerment-focused fitness brand Bolo to open a temporary group fitness space, called the Bolo House. The space was mainly for fitness classes, but it also gave women a chance to try on (and purchase) Knixwear's line of bras, underwear, pyjamas and more.