Fallsview Casino dips into AI with chatbot campaign
The campaign, which runs until the end of the year, was created in collaboration with Oath and OMD.
Fallsview Casino Resorts took a user-focused approach to its latest ad buy, working with OMD and Oath to create a chatbot campaign.
According to Jennifer Ferguson, director of marketing services for Niagara Casinos, this is the first time Niagara Casinos, Oath or OMD has worked on a campaign of this kind.
The campaign, which includes chatbots embedded in digital display ads, was rolled out this week and will continue to run until the end of the year across Oath's Yahoo and AOL networks to visitors from Buffalo, the GTA, Hamilton and Niagara region. The spot will also run through programmatic and native solutions across the Oath ad platform.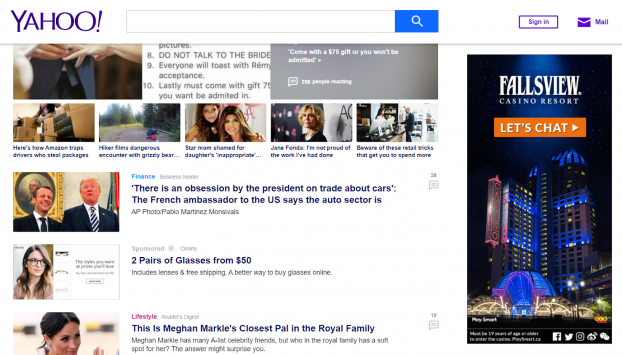 The goal, according to Ferguson, is to give potential visitors the ability to personalize their experience online, such as by asking questions rather than searching for FAQs.
"We're hearing from customers that they want to be efficient and be able to make sure they are getting the information they want," Ferguson said.
According to Michelle Bailey, director of sales at Oath, chatbots have been getting strong feedback from customers because they're able to quickly respond and find answers to their queries.
"We've been seeing that customers actually prefer chatbots to humans when it comes to certain criteria such as looking up pricing information or discounts, or looking for product information while just browsing online," she said. "I think this ad unit allows them to do a lot of those things."