Global embarks on biggest OOH buy for fall campaign
It's also using AI and a Siri partnership to get a tech edge.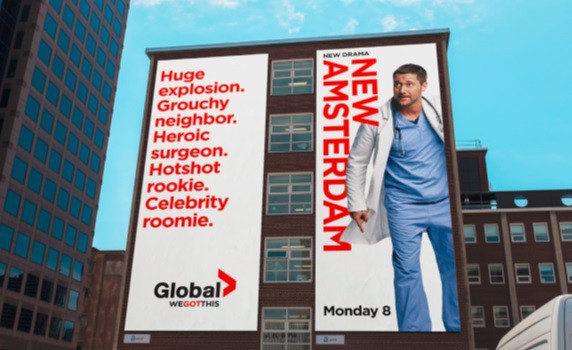 Fall premiere season is now in full swing, and for Corus' conventional network Global, it's all about getting seen – even if that means changing things up a bit.
Dervla Kelly, SVP of marketing and social digital agency at Corus, told MiC that in addition to the typical strategy of promoting the big-name stars of its upcoming fall shows, Global has also adopted what she calls a "refreshed look."
While Global has traditionally used motifs of black and red in its creative, it switched up the backdrop to white, and has made the font a bit brighter and bolder for a campaign that Kelly estimated to be the largest OOH spend the network has ever done.
The shows getting the most media spend, said Kelly, are new dramas 911, New Amsterdam and FBI, as well as the new "comedy block" of I Feel Bad, Happy Together and The Neighborhood. The campaign's creative and media planning were both executed by Corus' in-house agency teams.
Fall TV is a great opportunity to showcase Global's refreshed creative, said Kelly, adding that with the back-to-school period being a heavily saturated advertising market, the "simple white backdrop and big bold show titles" would likely draw more attention, especially in the campaign's out-of-home component. (Global isn't the only network to refresh its look – CTV rolled out a more simplified, geometric logo design with its own fall campaign.)
Outdoor will play a major part in the campaign, with Global focusing its efforts in urban centres across major markets, such as Toronto, Edmonton, Calgary and Vancouver, said Kelly. "Conventional TV equals mass," she said, adding that positioning ads in busy downtown cores means more eyeballs for broader brand-building with regards to the network's entire lineup.
In another first for Global, the network is using its in-house AI technology to determine where to place promos. TV ads throughout the fall will be based on a larger swath of data. For example, if the network finds that many in the "fashionista" segment tune into I Feel Bad, it will place ads throughout Corus' network against other shows that people in that segment are likely to watch.
It's also engaged in a partnership with Apple using its Siri technology. The network will allow users to make an appointment to view Global shows in their calendars by issuing a command such as "Hey Siri, remind me to watch Will and Grace." Siri will automatically know what time to schedule the reminder.
While Global is also using social to engage viewers – its average social engagement is currently at 42% across its lineup – the network is focusing more on creating content without necessarily relying heavily on social ad buys, she said. "Our perspective is, yes, you can pay for reach with ads, but you can't pay for fans to actually engage with it."
Content on the social pages will focus largely on the stars of Global's new shows, such as Ryan Eggold, who stars in medical drama New Amsterdam. Eggold previously starred on another past Global property, The Blacklist, so Kelly said that kind of content is an efficient way to promote the new shows on social.
The network will also promote its shows through its TV network (Kelly said the advantage of Corus having such a large specialty portfolio is that it provides a large amount of ad space), programming show previews, sneak-peaks and trailers against high-performing summer series finales. Corus' owned radio properties will also play a big part in the promotion, with large advertising blocks for the premieres day-of.
In addition, Kelly said Corus is also using its podcast network to promote the shows. A digital buy his helping to extend the mass reach of the campaign and target both the 18 to 45 and the 25 to 54 audience, while also promoting its Global Go TV Everywhere service. In light of the heavy promotion, Global has extended the availability of free content on the Go app. "Normally, the content is in front of the [pay]wall for seven days after it premieres," Kelly explained. "We've extended that to 14 days."