Reader's Digest redesigns for viewability
Sales head Ashley Leon said there has been a focus on "cleaning up" the site's ad environment in order to create better load times.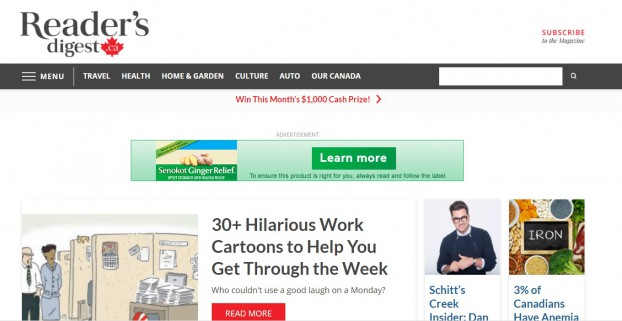 Reader's Digest Canada has redesigned its flagship site, RD.ca, as well as Selection.ca and Besthealthmag.ca.
The redesigns were centred around ensuring a more mobile-friendly site for users, faster load times, less pop-up content and a more efficient way to load ads.
Ashley Leon, head of sales and strategy with Reader's Digest Canada, explained to MiC that, with the redesign, when users go to a page, one ad will load instantly, whereas the others will undergo a process called "lazy loading."
"Typically, when a user goes to a page, all of the ads on the page will load at the same time, which slows us down a little bit, making it an inconvenient experience for the user," she said. "Now, our priority is the content. So when a page loads, all the content loads, and only one ad spot will load automatically."
The rest of the ad units will load, however the "lazy-load" process means they'll only load as users scroll down.
Now, said Leon, viewability scores should be at or above 75%, which she said is higher than the industry's average score.
The site sells its ads through a mix of direct and programmatic sales, although Leon said the company's U.S. counterpart has more programmatic transactions.
Leon came over to the company from Rogers one year ago, and said that when she joined the company, she was focusing on getting more direct sales up and running, expanding beyond the programmatic business. She said it's become a priority to "clean up the pages" on the websites and make sure the ad experience is not clunky or unattractive. The company has also eliminated some of its third-party ad exchange partners in order to make its ad operations more efficient.
"The focus now is really working with agencies and clients directly to ensure the experience is strong."
According to a January 2018 study by Vividata, Reader's Digest's flagship site sees an average of 508,000 readers per month. Best Health sees an average of 190,000 readers per month (Selection was not measured). Leon said the sites' mobile audiences have been on the rise, which prompted a redesign that focuses on the mobile experience.