TSN and 7-Eleven expand relationship
The daily news show That's Hockey is now known as 7-Eleven That's Hockey.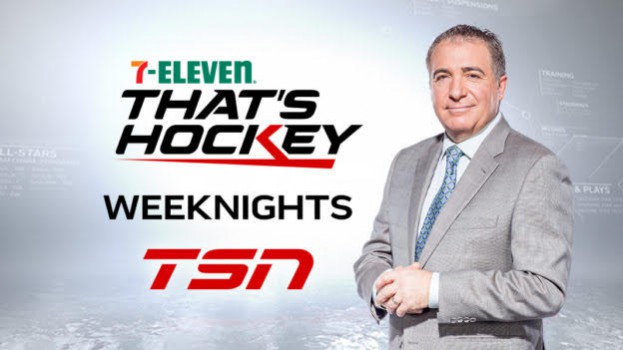 TSN's daily hockey news show, That's Hockey, is now known as 7-Eleven That's Hockey thanks to a title sponsorship deal between the convenience store chain and Bell Media.
The 7-Eleven brand and logo will be integrated into the show title, logo, animations, graphics and in-studio desk placements. On top of visual integrations, Alyson Walker, VP of brand partnerships with Bell Media, told MiC the broadcaster has also developed a number of daily features that will showcase the brand.
Features include the "Save @ Sev," a look back at the best save from the previous night; the "7-Eleven Brain Freeze" blooper highlight; "7-Eleven Pick Drop" which takes a live look at games already underway at 7:11 p.m.; "Freeze the Moment," a freeze-frame breakdown courtesy of a sports analyst; "7 Rewards," a stats board that shows updated point  or goal leaders; "What's Brewing," featuring unique stats and futures related to that night's actions; and "7 in 11," a look at all seven Canadian hockey teams in 11 seconds each.
"Given the day-to-day nature of hockey news, information and content, we wanted to develop a plan that would allow us to address contextually relevant news," explains Walker.
Branded features will also run within midday editions of SportsCentre as part of an effort to drive views to the show later in the day. Promotional elements will also run in select regional hockey programming through branded in-game lower-thirds.
Walker told MiC that the show often has online extensions and this deal involves content, integrations and features that will be shared online and across various social platforms, although she did not say if original or social-exclusive content would be created. She did, however, add that even though the program is now live, "the teams are still discussing more ways to leverage the partnership."
The brand has previously been involved with TSN as a broadcaster, pairing with TSN Hockey Power Rankings for two seasons. That sponsorship will continue this year and can be viewed on broadcast, digital and social platforms.
The partnership was brokered by the TSN brand partnerships and sales team, working in conjunction with B.C.-based boutique agency Genuine Media.