CBC to air Gord Downie documentary
Finding the Secret Path airs Friday October 12, days before the anniversary of the Tragically Hip frontman's death last year.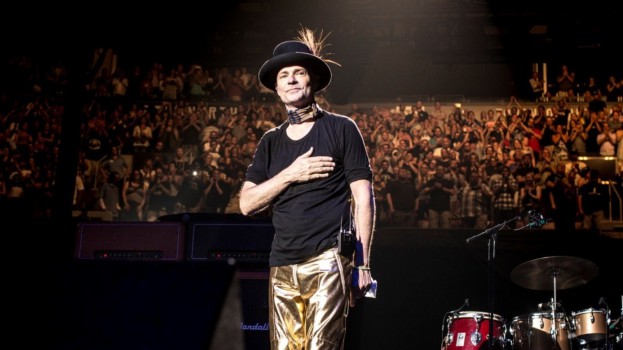 A CBC documentary following the final year of Tragically Hip frontman Gord Downie's life will premiere next week.
The one-hour documentary, Finding the Secret Path, which shows Downie behind-the-scenes and in-concert alongside fellow Canadian musicians Kevin Drew, Kevin Hearn and Dave Hamelin, was written and directed by Downie's eldest brother and filmmaker, Mike Downie. The elder Downie also produced the film alongside producer Stuart Coxe.
This is the third part of a Secret Path trilogy broadcast by CBC, which included Gord Downie's Secret Path in Concert and The Secret Path – the animated version of a graphic novel illustrated by Jeff Lemire and accompanied by a 10-song album written by Downie, which tells the true story of Chanie Wenjack, an Indigenous boy who died after fleeing from a Northern Ontario residential school in 1966.
Since Downie's diagnosis with terminal brain cancer in 2016, Canadians have thrown their support behind the Hip – and related broadcasts – with enthusiasm. The August 2016 broadcast of the Hip's final live show brought in an AMA of more than four million and reached 11.7 million Canadians in total, rivalling the number of viewers for the opening ceremonies of the 2016 Rio Olympics. It also saw more than 900,000 live streams.
Last fall, shortly before Downie's death, CTV commissioned a doc on the band, for which the trailer alone received 500,000 views on Twitter in its first weekend. Following the Junos tribute to Downie, his music also saw a 111% increase in digital streaming, according to Nielsen.
Following his diagnosis, Downie dedicated his final days to advocating for Indigenous rights in Canada, releasing Secret Path and later receiving the Order of Canada for both his musical career and activism.
Finding The Secret Path will air on Friday, October 12 at 9 p.m.