Air Canada expands FanFlights
With the Ottawa Senators now part of the sponsorship family, the program has gone national.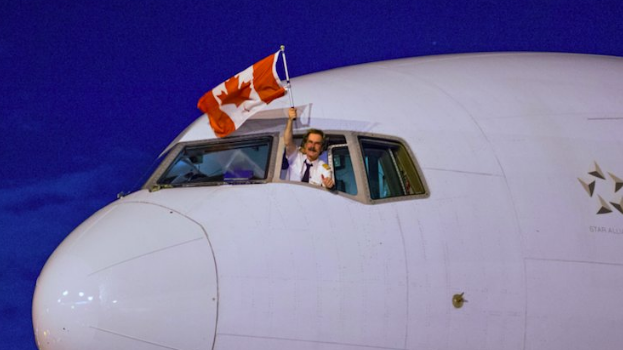 For the third year of Air Canada's FanFlights platform, the travel company has, in its own words, "gone truly national."
The program, which surprises fans of hockey with flights and tickets to see their favourite Canadian teams play on the road, has been able to bolster the program now that it is the official airline of all seven Canadian teams (last year, the Ottawa Senators were the only team without that official affiliation).
Jackie Harkness, director of sponsorships with Air Canada, told MiC that despite Air Canada no longer having the naming rights to the Toronto Maple Leafs' home arena, the airline will continue with a mandate to be ingrained in all things hockey.
"We fly each of the teams on our charter service, which means every single day, we interact with the team directly," she said. "We also sponsor all seven teams, we're in the arenas, we're in the communities with the hockey message. We've done different activations per market, but now we're putting it all in one big national activation."
The campaign will be promoted through social media, PR and ads in print and radio. All media buys were handled internally.
Besides now involving the Senators in its Fan Flights offerings, Air Canada has also updated the program to integrate each team's charitable foundation. Fans with ties to the foundations will also be awarded with a FanFlight experience. Harkness said this gives Air Canada a chance to keep the program "community-oriented" despite the massive national platform.
In fact, she said, that was the motivation for putting most of its media spend behind print, radio and influencers (largely NHL alumni). "We wanted to reach the average hockey fan, and we don't want to do that through the biggest, most expensive media buy," she said. "We have teamed up with every radio station in the country." She added that while big TV buys could achieve mass reach during games, it's not just catching people when they happen to be watching the puck drop. "It's just as important to catch people listening [to sports news] in their car."
Also updated for the season is the creative approach. This year, Air Canada's employees – pilots, flight attendants and other staff – will be the face of the FanFlight branding. The idea, said Harkness, is to drive home a message of customer service.