The Good Doctor back on top: Numeris
It was a big week for dramas, which took over much of the top five.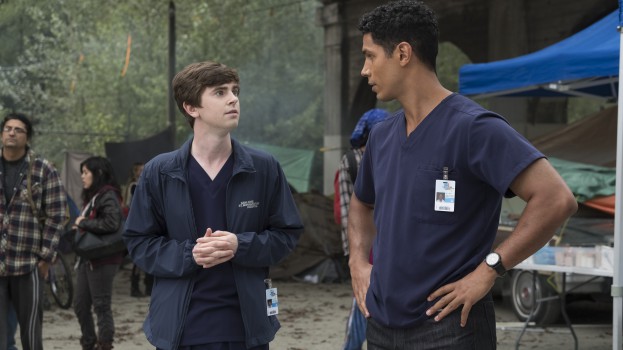 A previous version of this article incorrectly stated that The Good Doctor garnered 1.09 million views in the Montreal (Anglophone) market and that New Amsterdam aired on CTV. MiC regrets the error. 
The Good Doctor took the lead on Canadian television on its first week back.
The medical drama, which returned to the airwaves Sept. 24, saw an average of nearly three million viewers for its season premiere on CTV. The series is no stranger to the top spot, garnering millions of views last season.
The week of Sept. 24 to 30 was a big week for dramas overall, with new shows FBI and New Amsterdam taking the #2 and #3 spot, last week's champ 9-1-1 dropping to #4 and Survivor – all on Global – rounding out the top five.
It is worth noting that The Big Bang Theory pulled in a higher AMA than The Good Doctor, with an average of 3.49 million viewers per minute. However, Big Bang, which had two episodes broadcast this week, was programmed as a multi-night program and thus not counted among MiC's top five. Young Sheldon also grabbed an AMA of 2.49 million over two nights.
In the Quebec market, Unité 9 stayed at number one for the third week running, followed by Révolution, which held onto the #2 spot for a second week.
Canada
1. The Good Doctor on CTV Monday at 10 p.m.: 2.63 million viewers
2. FBI on Global Tuesday at 9 p.m.: 2.26 million viewers
3. New Amsterdam on Global Tuesday at 10 p.m.: 2.24 million viewers
4. 9-1-1 on Global Monday at 9 p.m.: 2.18 million viewers
5. Survivor on Global Wednesday at 8 p.m.: 2.05 million viewers
Montreal (Anglophone)
1. The Good Doctor on CTV Monday at 10 p.m.: 109,000 viewers
2. This is Us on CTV Tuesday at 9 p.m.: 86,000 viewers
3. New Amsterdam on Global Quebec Tuesday at 10 p.m.: 77,000 viewers
4. Magnum P.I. on CTV Monday at 9 p.m.: 67,000 viewers
5. CTV Evening News Weekend on CTV Sunday at 6 p.m.: 64,000 viewers
Quebec (Francophone)
1. Unité 9 on SRC Tuesday at 8 p.m.: 1.50 million viewers
2. Révolution on TVA Sunday at 7:30 p.m.: 1.23 million viewers
3. L'échapée on TVA Monday at 8 p.m.: 1.19 million viewers
4. O' on TVA Tuesday and 8 p.m.: 1.18 million viewers.
5. Tout le monde en parle on SRC Sunday at 8 p.m.:1.14 million viewers
Toronto/Hamilton
1. The Good Doctor on CTV Monday at 10 p.m.: 642,000 viewers
2. 9-1-1 on Global Monday at 9 p.m.: 613,000 viewers
3. Magnum P.I. on CTV Monday at 9 p.m.: 523,000 viewers
4. NCIS on Global Tuesday at 8 p.m.: 479,000 viewers
5. Survivor on Global Wednesday at 8 p.m.: 468,000 viewers
Edmonton
1. Magnum P.I. on CTV Monday at 10 p.m.: 97,000 viewers
2. New Amsterdam on Global Tuesday at 8 p.m.: 96,000 viewers
3.  FBI on Global Tuesday at 10 p.m.: 94,000 viewers
4. Hawaii Five-O on Global Friday at 10 p.m.: 90,000 viewers
5. Bull on Global Monday at 8 p.m.: 89,000 viewers
Calgary
1. New Amsterdam on Global Tuesday at 8 p.m.: 122,000 viewers
2. 9-1-1 on Global Monday at 10 p.m.: 119,000 viewers
3. NCIS on Global Tuesday at 9 p.m.: 109,000 viewers
4T. FBI on Global Tuesday at 10 p.m.: 103,000 viewers
4T. Magnum P.I. on Global Monday at 10 p.m.: 103,000 viewers
Vancouver/Victoria
1.  The Good Doctor on CTV Monday at 10 p.m.: 252,000 viewers
2. Survivor on Global Wednesday at 8 p.m.: 232,000 viewers
3. Hawaii Five-O on global Friday at 9 p.m.: 205,000 viewers
4. Magnum P.I. on CTV Monday at 9 p.m.: 185,000 viewers
5. New Amsterdam on Global Tuesday at 10 p.m.: 182,000 viewers