Three takeaways from RAIN's digital audio summit
From growing the podcast industry to monetizing and measuring its ad potential, Summit Canada explored the state of audio in the country.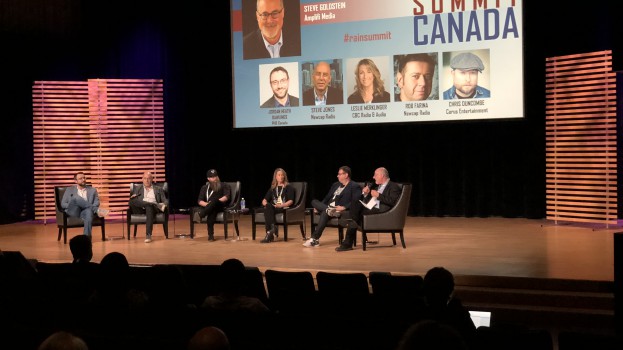 There's no denying it: podcasts are everywhere. Traditional media companies have launched podcast arms in the hopes of tapping younger audiences, and brands are clamouring to get in on the growing medium.
But there's still a lot of unknowns in the market. That was the impetus for Radio and Internet News (RAIN) to host the inaugural Summit Canada event. Hosted in Toronto on Oct. 10, the event brought together influencers, agencies, brands, media companies and agency execs to discuss the digital audio space in the country.
From exploring monetization strategies to growing the popularity of the industry, here are a few key takeaways:
Advertisers are averse to audio risks
Erik Portier, CRO at Targetspot, was clear in his presentation to the crowd: "If you don't have an audio strategy, you don't have a future strategy." While Portier said radio is a success in Canada, "it is under-monetized" (radio currently takes 11% of ad spend).
Throughout the day, many ideas were exchanged on the growth opportunity for advertising in the digital audio medium. Rob Greenlee, VP of podcaster relations with Voxnest and Spreaker, said brands still aren't going full-out with their audio strategies. "Advertisers have a tendency to buy test campaigns, but they must understand that the delayed effect [in terms of ROI] is more in podcast than radio, due it is frequency." Numerous speakers also noted that there has been a lack of measurement of conversions, ad sales and returns in the podcast advertising industry.
Ulster Media's Jeff Ulster and Audience Insights president Jeff Vidler unveiled their second joint study on podcast listeners. In addition to podcast audiences growing slightly (26% of Canadians say they listen to podcasts, compared to 24% last year), one in eight listeners have clicked on an ad from a podcast, with intent to purchase.
To repurpose, or not to repurpose?
One topic that struck up a slightly more heated debate was that of transferable or repurposed content from radio onto podcast or digital audio channels. Agency-side executives said a lot of advertising content gets re-used between broadcast radio and podcast channels.
Caroline Moul, president of PHD Media said it's a natural strategy. "It becomes logical for advertisers to create content, not for separate platforms or devices but as an extension of what they are already doing."
However, Bob Kane, VP sales at TPX noted that "advertisers in podcasts prefer host-read, 15, 30, 60-second ads, which is intimate and has softer tone, in comparison to radio."
Building the podcast industry
Almost all of the digital audio industry influencers communicated the need to create original Canadian content, because some of the most popular podcasts are from outside of Canada. Jordan Heath-Rawlings, director of digital radio and podcasts at Rogers Media, spoke about the importance of attracting a younger audience and the efforts by Rogers to "build niche content, speaking directly to communities that don't have a voice on traditional media and hiring diverse hosts."
Much was also discussed around building awareness about the industry, educating on how to listen to podcasts and making them easily searchable online. Numerous speakers and panelists also agreed that the rise of smart speakers would have a major effect on the popularity and discoverability of podcasts. Many agreed that the prospects of advertisers entering into the personal space via podcasts running on home speakers were strong.
Radio host and podcast creator Alan Cross added that as more podcast platforms become available on Android (Apple claims to hold 55% of the podcast market) and more Canadians begin to listen to digital audio in cars (high Canadian data prices have been cited as one of the reasons Canadians often opt more for traditional radio when driving) he hopes to see "an explosion of podcast listening."