ICYMI: A new HQ for CHCH and two big acquisitions
Triton will be acquired by Scripps for $150 million.
Scripps to acquire Triton for $150 million
Media and content creation company Scripps will acquire digital audio measurement company Triton. Triton – which generates revenue through a software-as-a-service B2B model – powers, measures and provides ad-serving solutions, streaming music and podcast services for companies such as Pandora, Spotify, NPR, iHeart Radio, Entercom, Cumulus and more. The $150 million transaction is expected to close by year-end. According to Scripps, Triton's 2018 revenue is projected to be approximately $40 million, with its 2019 revenue projected to grow in the low- to mid-teens percentage range from 2018. The acquisition is in line with Scripps' goals to expand its role in the growing digital audio market.
Stingray's new acquisition signals entry to European market
Audio and video media company Stingray is planning an entry to the European market, and it's doing so with the acquisition of media solutions provider DJ-Matic. DJ-Matic, which serves advertising clients in Belgium, the Netherlands, Germany and Denmark, has been a part of the European entertainment and media industry for more than 25 years. The acquisition is key to Stingray's growth plan, which lies largely in developing a client base outside of Canada. Other recent acquisitions include SBA Music and SMA Entertainment (Australia) and Novramedia (Toronto), and the company has also signed a major contract with Mexico's Farmacias del Ahorro. DJ-Matic's current leadership team will remain in place.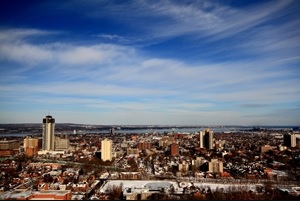 CHCH gets a new home
After a two-year search, Ontario-based TV group Channel Zero has found a permanent new base for the broadcast operations of its flagship TV channel CHCH-TV. The company has completed the acquisition of a property on Innovation Drive in Flamborough, ON. Renovation and construction on the new site is set to begin in 2019, with the finished building set to be operational by spring of 2021. CHCH-TV produces more than 24 hours of news programming each week. According to the company, the new site is in close proximity to City Hall, municipal courthouses and the FirstOntario Centre, serving CHCH's heavy news output. Outside of local news programming, CHCH earlier this year expanded into the scripted drama space. In February the indie channel inked a partnership with GroupM's content division Motion Content Group to develop scripted TV dramas for the international marketplace.
Conventional networks make alternate plans for election broadcast
Oct. 22 marks municipal election night in Ontario; however, there will not be live linear coverage for the entire affair. During the 8 p.m. Monday timeslot, CBC has confirmed that it will air its regularly scheduled program Murdoch Mysteries. CityTV will air a regularly scheduled episode of Dancing With the Stars, while Global will air its Monday night comedy lineup followed by 911. However, CTV will air live coverage from 8 to 9 p.m., followed by Magnum P.I. Most of the broadcasters will air coverage on digital, radio or social platforms and will feature coverage on their later news broadcasts. However, the decisions has sparked some debate and criticism online.