Revenue drops 10% at Postmedia in Q4
The company celebrated increases in digital revenue, but print still dropped by 17%.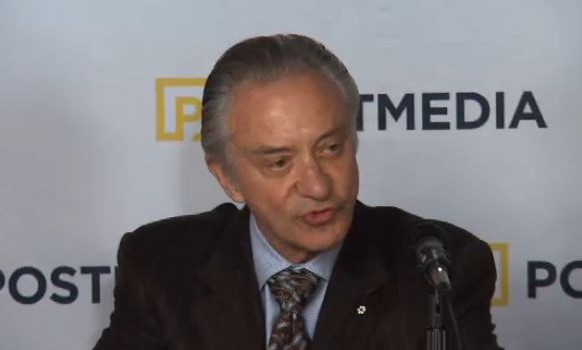 Postmedia brought in $158.7 million of revenue for the quarter ended Aug. 31, more than a 10% drop from the same quarter in 2017.
The company attributed the decline to a decrease in print advertising revenue. Print advertising brought in $68.8 million for the quarter, representing a 17% drop over the same period last year. Print circulation revenue also fell, with revenue falling $5.7 million (9.6%).
While digital ad revenues did increase (up 13.2%), it wasn't enough to offset losses on the print side. Still, the company rallied around its digital gains in its investors' conference call. CEO and executive chairman Paul Godfrey noted that Postmedia has now seen seven straight quarters of double-digit digital advertising revenue growth.
Operating expenses were down across the board including for compensation, distribution and production. Overall, expenses went down by $10.7 million (6.5%) for the quarter. This past quarter saw the shutting down of several community publications and the announcement that the company would reduce compensation expenses by 10%.
Net loss for the quarter was $22.8 million, less than the $40.3 million in the same period last year. This was driven largely by the company's lower operating income, as well as the sale of Infomart this past quarter.
For the whole year, Postmedia brought in $676.3 million, compared to $754.3 million in the fiscal year 2017. Over the year, print advertising revenue decreased by $65 million (17.4%) and print circulation revenue decreased by $18.6 million (7.8%). Digital revenue increased by $11 million (10.4%) and digital advertising specifically increased by 13.1%. Total expenses for the year decreased by $88.8  million (12.7%).
During a conference call with investors – which at times became heated – Godfrey and COO Andrew MacLeod focused mainly on the positive aspects of the company's performance. MacLeod spoke of the company's strategy of "maintaining the legacy runway" – keeping costs on the struggling print side low in order to bide the company time to transform.
"The second strategy is to grow digital revenues," he said. "The promising digital growth we're seeing comes from two key components: learning to co-exist with Google and Facebook via our digital marketing services offerings, and transforming and re-architecting our own media network."
Postmedia has also launched new digital products including The GrowthOp, a cannabis-focused business website, and a recent cannabis newsletter. MacLeod said that although it was early days in terms of reporting on specific revenue from The GrowthOp, he was "impressed" and feeling optimistic. "People understand that this is the birth of a new industry, so we're looking at this through a long-term lens. We're seeing uptick in the traction."
Godfrey took some hard questions from an investor on the call about the company's refusal to issue forward-looking statements (Postmedia has, in previous quarters, not issued forward-looking statements). When asked repeatedly about whether or not Postmedia would consider mergers and acquisitions and whether or not the Canadian regulatory landscape would be welcoming to such a move, Godfrey simply said that the company was "always open" to mergers and acquisitions. "We talk with whoever knocks on our doors," he said. However, he would not comment on the regulatory landscape in that context. "We don't comment on the hypothetical."