Nestle goes programmatic with DOOH campaign
The "A Little Of What You Love" campaign was the first on Campsite's new Outdoor Exchange.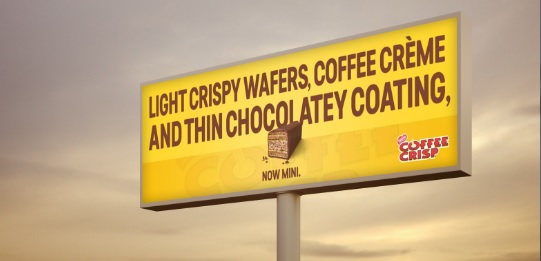 Nestlé Canada took a slightly different approach to its latest OOH campaign.
The campaign, titled, "A Little of What You Love," is the first to launch on DOOH provider Campsite's Outdoor Exchange, a programmatic buying system for outdoor billboards and other units.
Created by Nestlé's agency OneMethod and planned by media partners Cadreon and Wavemaker, the ads aimed to promote the confectionery brand's line of Minis to a millennial target, with 167 screens in three major cities including Toronto, Vancouver and Edmonton.
The company first launched its Minis product line to market in April with ads on YouTube, Facebook, Instagram and OOH with transit shelters and a streetcar takeover in Toronto.
Campsite launched its Outdoor Exchange in September as part of its partnerships Pattison Outdoor and Bell Media's OOH division, Astral. The deal saw Astral add 240 of its digital billboards and street-level properties to Campsite's open exchange, where advertisers could then purchase and program ads on billboards programmatically.
According to Brooke Morrison, marketing manager for Kit Kat at Nestlé Canada, the company has been shifting its focus toward buying more programmatic media over the past year.
"We know [the programmatic space] is where a lot of the growth is . There's an opportunity to gain efficiencies, as well as more direct targeting," she told MiC, adding that real-time bidding can help extend media spend.