Snapchat launches a desktop product
Performics Canada's Sean McConnell and EQ Works' Jed Schneiderman weigh in on whether a mobile-first company can make a splash on desktop.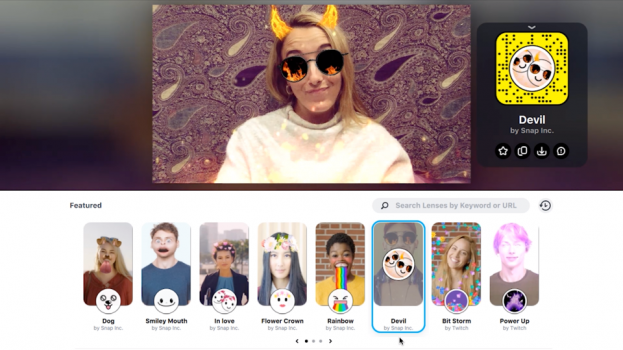 Snapchat is moving to a new frontier: the desktop.
The mobile-first social media company introduced a new standalone desktop app, Snap Camera, Oct. 26. The app allows users to play with Snap's signature Lenses while recording and snapping pictures on their desktop through their computer's webcam.
The Snap Camera allows users to play in the app without a Snapchat login and enables them to use the Lenses while using other platforms, such as creating content for YouTube or streaming on video chat platforms such as Skype and Google Hangouts. It's also integrating into the Amazon-owned gaming streamer Twitch, allowing extra user features such as access to exclusive gaming lenses.
For some in the media industry, a social media company aimed at targeting millennials launching a desktop products seems out of left field.
Sean McConnell, head of Performics Canada, told MiC the addition of a desktop product doesn't seem intuitive in this current media landscape. "I really don't think that any mobile-based company has successfully brought an adaptation into the desktop environment." He noted that although Instagram has a desktop version of its product, "usability is a lot lower."
As a performance marketer, he said he still very much looks at desktop as a strong source of transactions, even though most attention is paid to mobile because of its massive growth trajectory. "Desktop is still an integral part of the consumer funnel, so I totally get why people would want to have desktop environments." He said that with Snap's latest financials showing that daily active users are down, "it needs to scale."
For Snap's part, the company views the move as highly beneficial for creators, offering, in its words, "a new distribution channel and new audiences for their Lens creations."
And Jed Schneiderman, EVP of growth and marketing at EQ Works, said there are a few more strong use cases for a desktop product.
The integrations with products such as YouTube, Twitch and Google Hangouts is key. "All of those have very strong desktop presences," he said. The Twitch partnership in particular is smart, he said, noting that "a lot of gaming is still on desktop."
He sees this move largely as a chance to stand out against Instagram, which introduced its competing Stories product two years ago.
Although Schneiderman specializes in mobile, he said desktop can be slightly "underrated."
"I think one has to go a level deeper below media and look at verticals and categories. If you're filling out an application for a financial institution or doing a lot of research in an auto category, you're going to want a physical keyboard, a larger screen. There will always continue to be a handful of scenarios are categories where desktop is superior, where desktop media is relevant."