TCL talks cord-cutting and sponsorship amidst Canadian launch
The television manufacturer talks building a media plan from the ground-up in a relatively complex category.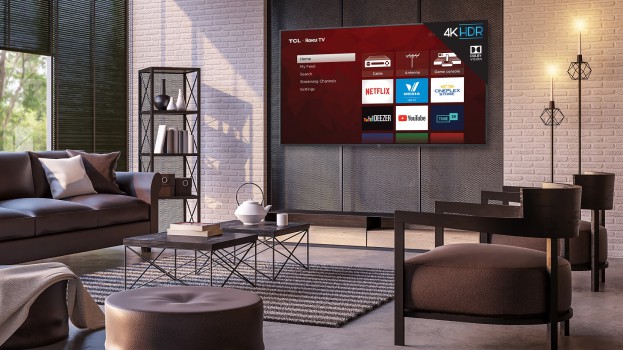 TV manufacturer TCL has officially launched its line of smart TVs in the Canadian market today – and it's taking stock of the Canadian media landscape as it looks to plan around current trends.
"We should have expanded into Canada sooner, but I was frankly a little lazy," Chris Larson, SVP of TCL North America, tells MiC. According to the company (which is headquartered in China), TCL has the second-largest market share for smart televisions in the U.S. behind Samsung. Now, he said, it's looking to take on the Canadian market, and is working on developing a media plan around what he says is a more complex category than one might think.
Steve Abrams, director of business development for TCL Canada, says the timing of the launch is ideal because of digital media consumption trends in Canada. "A lot of the legacy brands have gone away, and the way Canadian consumers are consuming their content has massively shifted," he says. "With the massive trend toward streaming, most Canadians, even those with a traditional TV subscription, have some sort of [OTT] service they subscribe to. It's becoming a standard part of the viewing experience."
Indeed, according to a 2017 MTM study, 70% of OTT subscribers still have a traditional TV subscription, and 13% subscribe to more than one OTT service. With that in mind, the three lines of smart TVs TCL is launching in Canada are powered by the Roku OS, which enables them to connect with numerous streaming platforms.
Despite the rising popularity of streaming, Larson says big screen TVs are still a popular viewing medium. He says TCL's primary target is cord-cutters, and added that the company does "just terrible" with the 55-and-older crowd.
For the rest of 2018, the company plans to keep its paid media to targeted digital, but Abrams says the plan will begin to take shape more in 2019. It will likely be heavily modeled after its approach in the U.S. – but that took years to formulate, he says, as media planning in the TV category is tricky.
"Our category is a little unlike any other," he says. "You only buy a TV every five years or so, and when you're not in the consideration stage, you don't like hearing about it." He adds that the research cycle for buying televisions has also shrunk, and shoppers are making their decisions quicker.
"For us to advertise means we spend six years talking to you when you're not willing to listen."
Thus, despite being in the TV business, he says, the company doesn't spend much on traditional TV advertising. Instead, it's put most of its marketing dollars into sponsorships in order to put the brand in the front of shoppers' minds.
One of its biggest spends was in the naming rights to the famed Chinese Theatre in Hollywood. It's also gone after various sports partnerships, such as sponsorships for the Rose Bowl, Major League Soccer, the Anaheim Ducks and the NHL. It's also recently gotten into the e-sports world as part of an effort to attract dedicated gamers, sponsoring Call of Duty world league tournaments. Finally, in a bid for mass awareness, it's been a longtime sponsor of The Ellen DeGeneres Show, providing TVs for the show's frequent giveaways.
Once the brand exposure happens, Abrams says, then comes the online targeting.
The company does most of its media buying and advertising in-house in the U.S., but that Abrams says it "will likely have to engage an agency" in Canada in order to get a better handle on the market.