Sobeys becomes official sponsor for MLSE teams
The grocery retailer is trying to generate new content around game day menus inspired by athletes and promote its brand in the arena.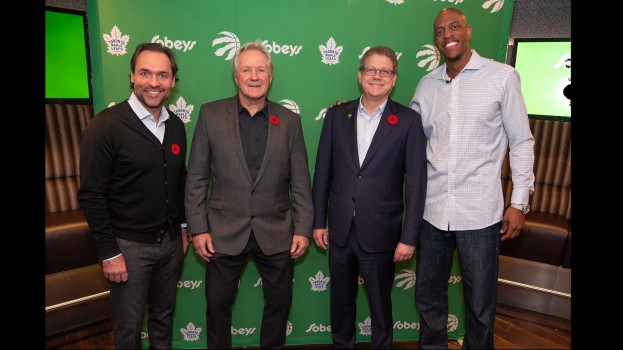 Maple Leaf Sports & Entertainment (MLSE) has signed Sobeys as a partner for the Toronto Raptors, Maple Leafs, Argonauts, Marlies, TFC and Raptors 905. Sobeys is the only partner that MLSE has simultaneously signed on with all of its teams.
It's the first time Sobeys will be directly working with athletes to generate content.
As part of the partnership, Sobeys is working on ways to makes its food available inside Scotiabank Arena and at the games. The partnership will be promoted in-store throughout Ontario, on flyers, banners and through social media channels of the Ontario Sobeys, Freshco and Foodland banners.
On the MLSE side, the partnership will be promoted in a number of ways in the arena. "For the Maple Leafs [games], Sobeys will be promoted are on all digital ring boards, LED screens, center aisles and Zamboni as well. With Toronto Raptors, we've got the digital ring boards and score boards," says Trinh Tham, interim SVP of marketing at Sobeys.
The partnership will also involve a social media contest targeted at MLSE fans. Fans will be invited to share their favorite game-day meals on Sobeys' social media pages until March 2019. Apart from winning small prizes, the grand prize winner will receive a game-day meal prepared by an MLSE athlete in a grand suite – one for a Maple Leafs game, and another for a Raptors game.
The partnership is largely themed around food as a ritual, tied in with the unifying power of sport. "Two of the things that usually unite families in this country are sports and food," says Michael B. Medline, CEO at Sobeys at the announcement event.
He says that this partnership, negotiated by Sobeys' marketing team, was done to further its recently unveiled (fall 2018) brand platform, "What Food Can Do."
"It is a springboard for us to create new content around what food can do," says Tham. "By partnering with MLSE, we get their athletes to support our content, [such as] small tips or inspirational menu ideas ."