Bell Media goes experiential for Crave rebrand
The hotel activation aimed to attract movie-lovers and TV superfans.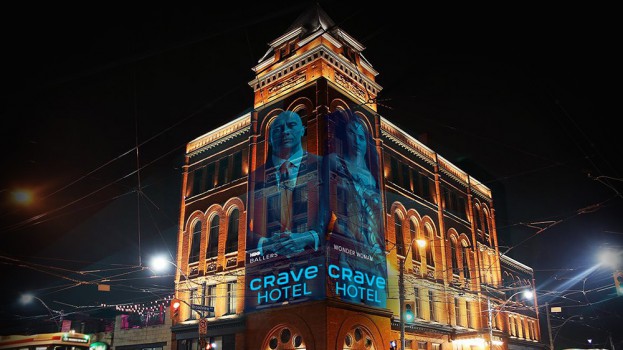 Bell Media wants to get its proprietary SVOD product, Crave, into the living rooms of more Canadians.
So it might come as a surprise that the media company is taking to the streets for its rebranding campaign.
Experiential is at the centre of Bell Media's efforts to get the word out about the new Crave, with the retro chic "Crave Hotel" lighting up the night sky in the east end of Toronto's downtown.
Located in the historic Broadview Hotel, the Crave Hotel activation features interactive rooms and an event space themed after some of the shows (and now movies) carried by Crave (formerly CraveTV), including Westworld, Jumanji: Welcome to the Jungle, Letterkenny, Game of Thrones and Academy Award Best Picture winner The Shape of Water.
Matthew Cowling, marketing director for English TV, radio and digital at Bell Media, tells MiC that with Crave having recently expanded its offering and adding a more premium slate, it wanted to play into the imagination and enthusiasm that people feel around TV and movies.
"We wanted to promote the feel of immersing yourself in the shows, give people the opportunity to touch and feel," he says. "We talked a lot about the full immersive content experience, letting people get lost in the shows."
The media company recently updated its Crave offering, switching to a two-tiered subscription system. It also recently rebranded its movie subscription service, TMN Go, as Crave, rolling in all of TMN's movie offerings to Crave's current TV slate. That service remains at $9.99 per month. In addition, internet-only subscribers can add a second tier that includes Bell Media's current premium pay TV and movie programming, which includes an HBO package for an additional $9.99 per month.
This marks the first time Bell Media will be offering its premium HBO and movie products as a separate online subscription, not tied to a linear package.
"We knew that it was time to expand the offering. People are changing the way they're viewing, so it was an opportunity to put everything under one strong brand. We're going to really be able to leverage the HBO brand, the Starz brand, and build a standalone brand. We had some good equity with the brand and are getting good reviews on the content, so we thought we'd try to make it more premium."
Although Crave does not release its subscription numbers, studies have shown that the SVOD's Canadian penetration could sit somewhere between 5% (GroupM) and 9% (MTM). Numerous studies also show that Crave subscribers also tend to subscribe simultaneously to either other SVODs or linear TV.
Cowling says that while he believes Crave's offering is now strong enough to compete against Netflix in terms of a premium offering, he said it's a reasonable expectation that consumers will likely continue to treat it as a complement to Netflix or other SVOD services.
Aside from the Crave Hotel, which runs for two nights and is being promoted through paid social, Bell Media has invested in social, digital, TV, radio and OOH advertising to promote the new Crave, mostly through its own media network. All media buys were conducted internally.