Kirstine Stewart goes 'back to media' in global role
The high-profile exec has been named to the executive committee of the WEF as head of media, entertainment and information sectors.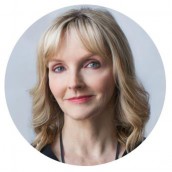 One of Canada's highest-profile media and digital executives is headed to Switzerland for a new global-facing role.
Kirstine Stewart has been named to the executive committee of the World Economic Forum (WEF) as head of head of media, entertainment and information sectors. The WEF, most famous for its conference in Davos each year, is an international organization with an operational mission to "engage the foremost political, business and other leaders of society to shape global, regional and industry agendas."
The organization is led by founder and exec chairman Klaus Schwab and includes a board of trustees, managing board and executive committee, the latter being the body to which Stewart has been named. The WEF website currently lists 41 individuals on the executive committee. (Read more here on the WEF's media initiatives.)
Stewart revealed her big move on social media yesterday, with the Twitter hashtag #leavingonajetplane and LinkedIn statement "Back to media. But different this time."
MiC sister publication Playback caught up with the high-flying exec via email as she landed in Geneva today, where she outlined her new responsibilities ahead of her first day on Monday, Nov. 19.
"My role will be to engage with media, entertainment and information businesses worldwide (including content creators, rights owners, platforms, publishers, sports, advertising, film production, etc.) and find consensus and solutions industry-wide for some of the bigger business challenges today," she said, listing as examples companies such as the New York Times, WPP and Alibaba. "I'll be looking to expand partnerships and memberships, particularly in China and West Coast U.S."
The bulk of Stewart's career has been in media, although recent years have seen her take multiple executive roles in the tech industry. She started in distribution in 1988, rising through the ranks at Crown Media, Alliance Atlantis and CBC, where she was named EVP of English Services in 2010. Since departing the pubcaster three years later, she has led Twitter's media operations in North America and held two C-suite roles at startup ventures in Toronto: Diply and Tribal Scale.
Most recently, she held board seats for WOW! Unlimited, Ryerson's DMZ and theScore. The former announced yesterday that Stewart was stepping down from her seat at the public company and that it would be filled by Bell Media president of content and programming, Mike Cosentino.
In a statement, WOW CEO Michael Hirsh wished the exec well: "Kirstine has been a valued director for WOW! and her extensive experience and guidance have been helpful in shaping the company's digital strategies. We wish her all the best; the WEF is fortunate to have acquired an individual with Kirstine's talents."
Stewart captured her ambitious career in a 2016 memoir and leadership book, Our Turn, published by Random House. In 2012, she was Playback's person of the year.
Photo via WOW! 
This story originally appears in Playback.