YouTube rolls out ad pods
The company got a warm reception from some advertisers for its new double-stacked 'ad pods' format.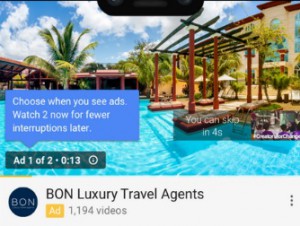 YouTube has switched up its skippable ad format, launching doubled up 'ad pods' globally – and it's piqued the interest of some industry experts.
It's a format some industry experts see as a positive move forward for both advertisers and content consumers.
The video-sharing company announced testing of its new 'ad pod' format in a Nov. 23 blog post, describing ad pods as two 15-second ads stacked back-to-back.
The format has already rolled out on desktop and is set to hit mobile and connected TV screens next year.
Nicole Bell, head of communications and public affairs at Google, says ad pods are a response to changing viewer trends on YouTube.
"We've seen an increase in the duration of time that people are watching content on YouTube," she tells MiC. "We've seen that grow over the years from being really short-form video to people consuming a lot of longer-form content… but we also know that there's less of a desire to have frequent interruptions."
Bell notes that users can watch two ads back-to-back or opt to skip the first pre-roll ad and watch it mid-roll, adding that it's an "experiment to see whether or not this type of an approach… will be a better experience for our users while still providing the benefit to our advertisers."
A blog post by Google states that early results show an 8% to 11% increase in unique reach and a 5% to 10% increase in frequency for advertisers.
While the format has rolled out globally, Bell says not all users will see them every time they watch content on YouTube.
It's an exciting development, according to Ira Kates, director of performance marketing and head of SEM at Mindshare Canada's Future Adaptive Specialist Teams (FAST) division.
Kates says it could be a win-win for both advertisers and YouTube consumers.
"It's taking into account not only the advertiser – giving us something interesting to work with to bring to our clients and create some interesting creative executions – it's also taking into account the [content] consumer," he says, adding that ad pods could potentially help advertisers create sequenced messages on the platform.
"In an ad pod, maybe there's an option or an ability for nimble advertisers to adapt to it and actually put it on both of those blocks [to] tell a story within those two 15 second pre-rolls."
For Kates, the alignment of creative, biddable media and adaptive media could give advertisers the ability to both make campaigns work better and expand reach, offering the ability to reach new audiences and "tell a bit more of a story" with ads that align what both creative partners and clients want.