Big Bang rides the (air) wave: Numeris
The Big Bang Theory, and The Good Doctor have landed in the top three for seven weeks.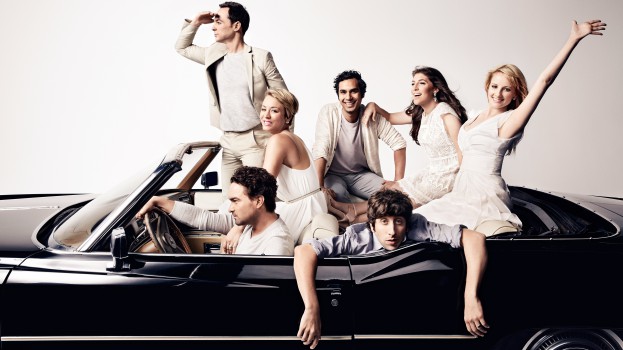 It was lucky number seven for CTV, which ruled the top-three spots on the Numeris charts for the seventh week in a row. According to Numeris data for the week of Nov. 12 to 18, the Bell Media conventional network's three most popular shows had the highest average-minute audiences of all single-night programs in the country.
Stuck to the number one spot, The Big Bang Theory garnered 3.48 million viewers, with runner-up Young Sheldon taking in 2.74 million and The Good Doctor grabbing 2.48 million.
Survivor and The Conners rounded out the top five with 2.01 million and 2.00 million viewers respectively.
In the Quebec market, Unité 9 took back its #1 spot after dropping to #2 last week, garnering 1.47 million viewers. Competitive dance program, Révolution, took the #2 spot with 1.36 million viewers,  followed by L'échappée (1.25 million viewers) O' (1.11 million viewers) and L'Heure Bleue (1.08 million viewers).
Canada
1. The Big Bang Theory on CTV Thursday at 8 p.m.: 3.48 million viewers
2. Young Sheldon on CTV Thursday at 8:31 p.m.: 2.74 million viewers
3. The Good Doctor on CTV Monday at 10 p.m.: 2.48 million viewers
4. Survivor on Global Wednesday at 8 p.m.: 2.01 million viewers
5. The Conners on CTV Tuesday at 8 p.m.: 2.00 million viewers
Montreal (Anglophone)
1. The Big Bang Theory on CTV Thursday at 8 p.m.: 113,000 viewers
2. The Good Doctor on CTV Monday at 10:p.m.: 94,000 viewers
3. The Conners on CTV Tuesday at 8 p.m.: 83,000 viewers
4. Young Sheldon on CTV Thursday at 8:31 p.m.: 79,000 viewers
5. The Rookie on CTV Tuesday at 10 p.m.: 69,000 viewers
Quebec (Francophone)
1. Unité 9 on SRC Tuesday at 8 p.m.: 1.47 million viewers
2. Révolution on TVA Sunday at 7:30 p.m.: 1.36 million viewers
3. L'échappée on TVA Monday at 8 p.m.: 1.25 million viewers
4. O' on TVA Tuesday at 8 p.m.: 1.11 million viewers
5. L'Heure Bleue on TVA Tuesday at 9 p.m.: 1.08 million viewers
Toronto/Hamilton
1. The Big Bang Theory on CTV Thursday at 8 p.m.: 884,000 viewers
2. Young Sheldon on CTV Thursday at 8:31 p.m.: 740,000 viewers
3. The Conners on CTV Tuesday at 8 p.m.: 442,000 viewers
4. Survivor on Global Wednesday at 8 p.m.: 422,000 viewers
5. NCIS on Global Tuesday at 8 p.m.: 407,000 viewers
Edmonton
1. The Big Bang Theory on CTV Thursday at 9 p.m.: 153,000 viewers
2. Hockey: Oilers vs. Canadiens on Sportsnet Tuesday at 7:08 p.m.: 135,000 viewers
3. Hockey Night in Canada on CBC Sunday at 8:04 p.m.: 133,000 viewers
4. Young Sheldon on CTV Thursday at 9:31 p.m.: 116,000 viewers
5. Criminal Minds on CTV Wednesday at 8 p.m.: 100,000 viewers
Calgary
1. The Big Bang Theory on CTV Thursday at 9 p.m.: 202,000 viewers
2. Young Sheldon on CTV Thursday at 9:31 p.m.: 151,000 viewers
3. CFL Playoffs on TSN Sunday at 12:57 p.m.: 150,000 viewers
4. New Amsterdam on Global Tuesday at 8 p.m.: 133,000 viewers
5. The Good Doctor on CTV Monday at 8 p.m.: 122,000 viewers
Vancouver/Victoria
1. The Big Bang Theory on CTV Thursday at 8 p.m.: 262,000 viewers
2. Young Sheldon on CTV Thursday at 8:31 p.m.: 216,000 viewers
3. Survivor on Global Wednesday at 8 p.m.: 184,000 viewers
4T. The Good Doctor on CTV Monday at 10 p.m.: 175,000 viewers
4T. New Amsterdam on Global Tuesday at 10 p.m.: 175,000 viewers