Karine Courtemanche as changemaker
Touché's president wins the Media Agency Leader of the Year title after demonstrating strong leadership chops during the shop's recent restructuring efforts.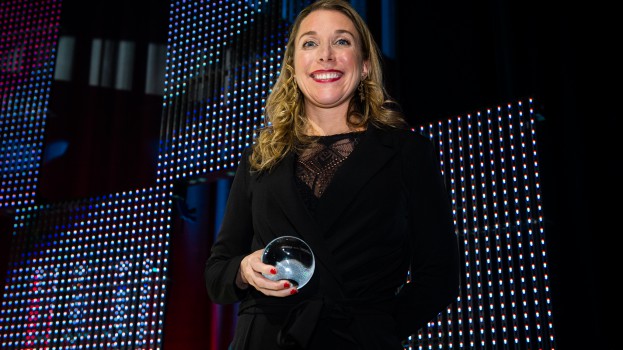 This year was a knockout year for Touché president Karine Courtemanche.
Her efforts to inject creativity into the agency while restructuring the shop to be more efficient led to dozens of trophies sporting Touché's name. That's thanks, in part, to her recent emphasis on project management, which ensures less time is spent on menial tasks, leaving more time to create groundbreaking campaigns.
This year alone, the 23-year-old media agency won top awards at the Cristal Festival in France, the Internationalist Awards for Media Innovation, the Prix Média Infopresse, Cannes Lions Festival of Creativity and, most recently, strategy's Agency of the Year competition.
For Courtemanche, it's the combination of creativity and efficiency that brings the agency continued success – including the growth it experiences year after year.
"I don't think many service companies can enjoy this kind of growth," says Touché founder and CEO Alain Desormiers. He adds that the Omnicom Media Group agency, which now has about 240 employees in its Toronto and Montreal offices, hired 34 people in 2018 and saw an average business growth of 30% every year for the past seven years.
Desormiers attributes Courtemanche's success to her leadership skills.
"[Courtemanche has] very impressive managerial skills when it comes to structuring, organizing the teams [and] making sure that, within an industry that's in perpetual transformation, she's always there, [constantly reworking] how we put our teams together, how we put more focus on this discipline or that discipline."
Courtemanche became president of the agency in 2010, following seven years as VP. The agency's media volume was pegged at $652 million as of June 2018, according to RECMA.
This year, to increase effectiveness, she restructured the agency's search, social and programmatic teams into a "performance team" of more than 50 in Montreal and Toronto. The restructuring brought down silos, and it's now much easier for the agency to deliver results for its clients with the three units working together, she notes.
"My number one role [is] to make sure that we set up structures and we hire the right talent," she says.
According to Desormiers, that focus on talent has been central to her (and the agency's) success. "That's her mantra: How can we always make people grow? Because when we make people grow we make the agency grow."
Courtemanche also helped launch an internal training program called Media Tigers, a competition involving more than 100 agency staff. Similar to the Cannes Young Lions (but with the goal to build skills and better teams), the program involves finding a media solution for a client brief, with two teams winning the title.
Touché's staff now put efficiency at the forefront of everything they do – for example, by focusing on automating the campaign process. "There were a couple [changes to the agency structure], one of which was to make sure that we spend as little time as possible on the tasks that bring little to no added value to our clients," she says, adding that teams now use project management software to reduce administrative duties.
Courtemanche also created an SVP of operations position, promoting former VP of digital Charles Etienne Morier in January to utilize his background in digital media to oversee project management so that the agency can become "agile in a world where most of our investments… are now coming from digital."
For VIA Rail's "Data Vs Car" campaign, which won the MIAs Best of Show, she knows agility is key. "There's a lot of talk about using data to make our campaigns more efficient, but we want to apply it to the way we run our own business," she says. "The agency has to be structured to allow for this type of campaign that is constantly being optimized based on consumers or outside market conditions."
Staying agile in an ever-changing industry is clearly paying off for both Courtemanche and Touché.
This piece appears in the 2018 MIAs book.