Google launches new listing program
The Canadian launch of Services by Google marks the platform's first venture outside of the U.S.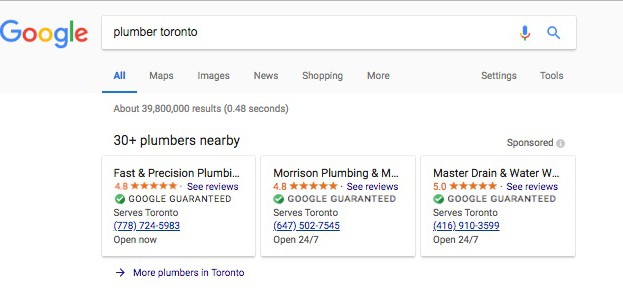 Google has just launched new Services By Google and Google Guaranteed ad products on its search platform in Toronto and Vancouver, which aim to help SMBs and service businesses acquire leads, increase conversion and build online audiences.
The new paid product allows services to buy ads that would fall under a banner, "Local Services by Google." It lists businesses across three verticals: plumbing, locksmiths and HVAC. The platform also includes Google Guarantee, which provides clients with a money-back guarantee if they're not satisfied with the service if they have booked a job through Google.
The program has been available in the U.S. since earlier this year. Canada is the first international market in which it has launched. Kim Spalding, head of Google Ads for small business, tells MiC the demand in Canada has been significant, and that the program has seen strong growth in the U.S., although she did not share specifics.
The platform was originally born out of observation of search patterns.
"Most of us, as consumers, go online to search for businesses nearby. We've zeroed in on searches like 'locksmith near me' or 'leaky faucet' to show service providers who do that in a relevant location."
Although she said the platform is designed to use brand-direct, it has seen a good deal of activity from buying agencies representing brands in the U.S. as well.
Spalding adds that information such as licenses and insurance will also be available on the ads.
Services by Google is live in Canada as of today.