Corby renews TTC New Year's Eve sponsorship
This is the sixth year that the alcohol brand has partnered with the TTC to provide free rides on the last night of the year.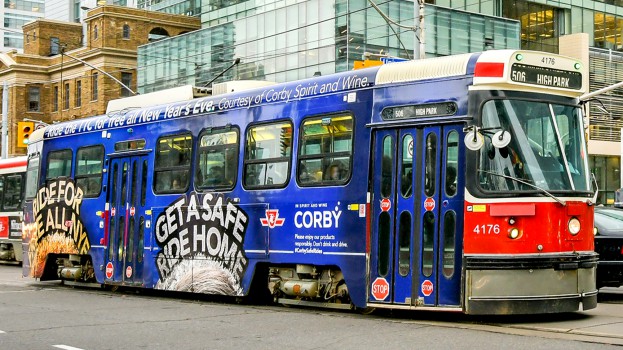 Corby Spirit and Wine has rolled out its sixth annual campaign with the Toronto Transit Commission, part of an ongoing partnership that aims to provide safe rides to Torontonians on New Year's Eve.
The #CorbySafeRides campaign, which first launched in 2013, gives people celebrating the New Year in Toronto access to all buses, streetcars and subways free of charge from 7 p.m. Dec. 31, 2018, to 7 a.m. Jan. 1, 2019.
Partnership assets include OOH ads in TTC stations, advertising in subway cars and streetcar wraps.
According to Patrick O'Driscoll, president and CEO of Corby Spirit and Wine, the initial campaign in 2013 was prompted by discussions surrounding impaired driving in Canada.
"We've always felt that we have a responsibility to participate in that discussion and our aim has always been to promote the responsible use of alcohol in whatever form that it's used," he says. Brands within Corby's portfolio include J.P. Wiser's, Polar Ice and Glenlivet.
"What we were looking for was a way to create a program that not only provided something concrete to get people out of their cars and using public transport, but also gave a platform to be able to raise the issue, [create] dialogue about it and get it top of mind for people as they entered the holiday period."
Since first partnering, Corby has covered the cost of more than one million rides in Toronto, which cost up to $3.25 per adult fare. The partnership runs until 2021.
This year, the alcohol brand also announced its partnership with advocacy organization Arrive Alive Drive Sober, with the goal of promoting the importance of planning safe rides home prior to consuming alcohol. Corby has committed to donating $1 to the organization per #CorbySafeRides hashtag posted on Instagram or Twitter, up to $10,000, for the month of December.
The campaign was executed by Corby's PR firm, Enterprise Canada, with creative support from the TTC's creative AOR, Publicis.