The Good Doctor has a good week: Numeris
Medical and procedural dramas ruled the airwaves.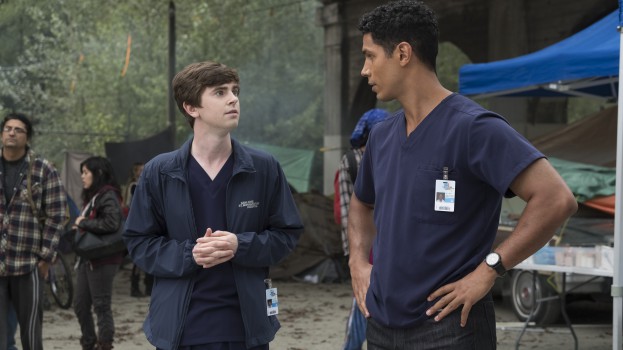 Medical drama The Good Doctor had its first top finish of the season.
According to the Numeris Charts for Nov. 26 to Dec. 2, the CTV series had the highest AMA (2.61 million) of all single-night programs in Canada for the week. It brought in 2.61 million viewers, just shot of its previous total of 2.62 million. The previous week, The Good Doctor had been the highest-rated scripted series, coming in behind the Grey Cup broadcast.
The usual top contendors, The Big Bang Theory and Young Sheldon, were once again off the broadcast schedule for the week.
The second, third and fourth top shows were all Global series, with 9-1-1, Survivor and New Amsterdam all pulling in just under two million viewers. Rounding out the top-five was CTV freshman series The Rookie, with 1.8 million viewers.
The Good Doctor took Anglophone markets Toronto, Edmonton and Calgary. Vancouver favoured a different medical drama, New Amsterdam, although The Good Doctor nestled into the number-two spot. In Montreal, family drama This is Us took the top spot. Montreal is usually known for having an all-CTV top-five, with series such as The Connors, Law and Order and Grey's Anatomy filling top spots. However, this marks the second week in a row that Global's New Amsterdam has risen into the top-five for the market.
For the Francophone market, Unité 9 continued its hot streak with 1.43 million average viewers.
Canada
1. The Good Doctor on CTV Monday at 10 p.m.: 2.61 million viewers
2. 9-1-1 on Global Monday at 9 p.m.: 1.93 million viewers
3. Survivor on Global Wednesday at 8 p.m.: 1.877 million viewers
4. New Amsterdam on Global Tuesday at 10 p.m.: 1.875 million viewers
5. The Rookie on CTV Tuesday at 10 p.m.: 1.8 million viewers
Montreal (Anglophone)
1. This is Us on CTV Tuesday at 9 p.m.: 87,000 viewers
2. The Good Doctor on CTV Monday at 10:p.m.: 85,000 viewers
3. Law & Order: SVU on CTV Thursdya at 10 p.m.: 84,000 viewers
4. The Conners on CTV Tuesday at 8 p.m.: 66,000 viewers
5. New Amsterdam on Global Tuesday at 10 p.m.: 64,000 viewers
Quebec (Francophone)
1. Unité 9 on SRC Tuesday at 8 p.m.: 1.43 million viewers
2. Révolution on TVA Sunday at 7:30 p.m.: 1.4 million viewers
3. Les enfants de la télé on SRC Wednesday at 8 p.m.: 1.38 million viewers
4. L'échappée on TVA Monday at 8 p.m.: 1.29 million viewers
5. Boomerang on TVA Monday at 7:30 p.m.: 1.19 million viewers
Toronto/Hamilton
1. The Good Doctor on CTV Monday at 10 p.m.: 5425,000 viewers
2. Hockey Night in Canada on CBC Saturday at 7:15 p.m.: 491,000 viewers
3. 9-1-1 on Global Monday at 9 p.m.: 474,000 viewers
4. Hawaii Five-O on Global Friday at 9 p.m.: 445,000 viewers
5. Survivor on Global Wednesday at 8 p.m.: 485,000 viewers
Edmonton
1. The Good Doctor on CTV Monday at 8 p.m.: 115,000 viewers
2. New Amsterdam on Global Tuesday at 8 p.m.: 94,000 viewers
3. Hockey Night in Canada on CBC Saturday at 8:07 p.m.: 82,000 viewers
4. 9-1-1 on Global Monday at 10 p.m.: 81,000 viewers
5. Young Sheldon on CTV Thursday at 8:31 p.m.: 79,000 viewers
Calgary
1. The Good Doctor on CTV Monday at 8 p.m.: 148,000 viewers
2. 9-1-1 on Global Monday at 10 p.m.: 134,000 viewers
3. New Amsterdam on Global Tuesday at 8 p.m.: 118,000 viewers
4. The Rookie on CTV Tuesday at 8 p.m.: 98,000 viewers
5. Hawaii Five-O on Global Friday at 10 p.m.: 92,000 viewers
Vancouver/Victoria
1. New Amsterdam on Global Tuesday at 10 p.m.: 201,000 viewers
2. The Good Doctor on CTV Monday at 10 p.m.: 183,000 viewers
3. Survivor on Global Wednesday at 8 p.m.: 182,000 viewers
4. 9-1-1 on Global Monday at 9 p.m.: 170,000 viewers
5. Hawaii Five-O on Global Friday at 9 p.m.: 153,000 viewers